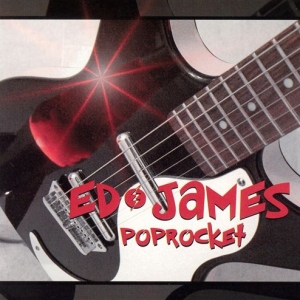 There's no better title for an album like this, because it will launch you into the pop orbit and make you feel like you can reach the stars.
It's funny that, at the same time, you get the feeling that you're listening to the ultimate DIY pop album, which it really is, and the ultimate mainstream-production pop album, which it could be, if it gets the chance it deserves.
Thanks to the wonders of the cyber space of his home studio, Ed James jumps in and out of the past, gathering its best parts to load his rocket-reservoir. There's really no big-concept idea behind this album, just big pop songs, chockfull of hooks, power-chords and heavenly harmonies, making you recall every single pop "cheap-trick" you've ever heard.
Welcome To The Show is an obvious opener that will make sure you're aware of what's goin' on here, to be followed with the Raspberry-flavoured Emily, preserving all the vintage fruity-ingredients, with some contemporary sounding additions. Keeping the '70 FM spirit alive, there's Sister Blue, sounding like an E.L.O. version of I Should Have Known Better, and then the rawking C'mon C'mon, that's gonna make you scream Who-oray !!!
After seeing the pretty suggestive title of Trippin' On Your Love, you won't be surprised to hear the mid'60s garage-like "trippin' stone" sound … minus the production authencity.
There's a country-ish rhythm carrying the pure pop melody of Bad Day, along some Monkee-bussiness guitar lines, and Cobwebbs and December Girl will take you back to the mentioned seventies (f)roots, this time heard through the Rubinoos' sound-prism.
Dust off your space outfits, Mr. Spaceman is takin' you for a ride!
[Released by JAM 2002]