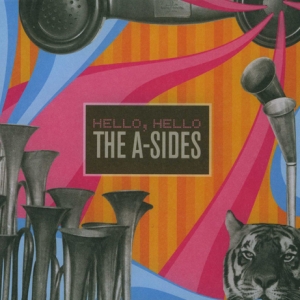 After the slight confusion regarding the A/B side thing on their debut vinyl (!) single, the Philly band finally straightens things up releasing the (fortunately) one-sided debut CD.
After re-creating the British way of re-creating the American rhythm'n'blues in the early sixties on the mentioned single, with both tunes sounding like genuine Brit-beat-boom artifacts, The A-Sides are back to the moderndaze, where they seem to belong after all.
The closest they come to the aforementioned concept, is the harmony fuelled r'n'beat stomper Jump Back Jack, and to a lesser degree, but with an even better song, in Park Avenue, sounding kinda like the '70s 'Stones being waaaaaay more adventurous in their songwriting, resulting in a mod-ish floor filler killer.
Besides these, there's an ongoing Spectorian-through-Jellyfish grandeur through the album, mixed with an occasional Scause-vibe, coming through the melodies, as well as from Jon Barthmus' vocal deliveries, best heard in the opening Sidewalk Chalk.
There's also a lots of a bit quirky sounding sunshiny West Coast pop, with Brian's shadow all over it, like in Sorry Cloud, Tall Buildings or I'll Come Around, a fine example of Britsike/folk-rock marriage in Umbrella.
Followed in the similar vein by Only Michelle, leaning a bit more towards the Brisike part, the way it could've been done by Dodgy, which is where they definitely end up by the time of the album closer Here Or There, and just for the good measure, there's also a piece of blue-eyed soul called Everybody Knows The Way, combining Motown with a touch of popsike.
As much as I miss the initial mid'60s authenticity, this is an album that is a more than welcome addition to the otherwise overcrowded power-pop scene.
[Released by Prison Jazz 2005]