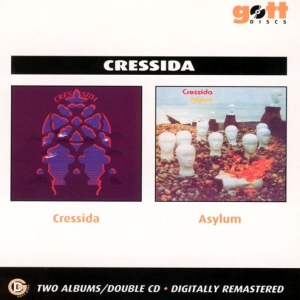 Kinda lost among the more famous late sixties/early seventies progressive soul mates, Cressida actually remains one of the surprising finds within the genre.
The reason for the band's obscurity might lie in the not too uncommon fact, that they may be considered too pop for the progressive market, as well as too progressive for the pop market … which might as well be where their brilliance comes from.
Most of the 1970 debut album makes a perfect overview of the end-of-the'60s/beginning-of-the'70s soundscape, opening with the Britsike-turn-into-fullblown-West Coast-harmonizing of To Play Your Little Game, followed by a bit lighter popsike of Winter Is Coming Again.
And the folky fingerpickin' through the slightlydelic jazzy arrangement of Time For Bed, at times being a perfect British answer to the Love-ly Forever Changes (an impression which I experienced quite a few times throughout the album), to some more groovy upbeat popsike sounds of Depression, Lights In My Mind or Tomorrow Is A Whole New Day.
On the 1971 follow up, the band leaned a bit more towards the prog-tag, even prolonging some tunes to 10+ minute omnibuses, while occasionally still sticking to the initial "catchy-eclecticism", like in Goodbye Post Office Tower Goodbye or the jazzy instro Reprieved.
Even though it is said in the liners that by the time of the appearance of bands such as Cressida, gone were the 3-minute jangles, replaced by the song-cycles, heavy riffing and mysticism, what made them stand out, was actually the fact that they mostly managed to squeeze all that into the mentioned 3-minute (sometimes maybe 4) form.
[Released by Gott Discs 2004]