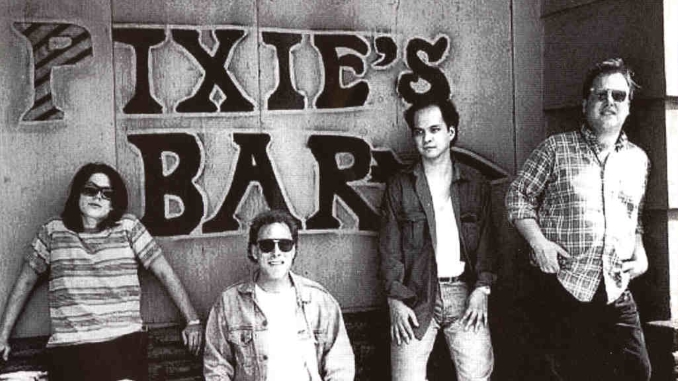 THE BLASTERS
American Music
[Slash, 1981]
Attityden i Dave Alvins American Music från The "California born & bred" Blasters överlägsna album ("Svettansiktet") får ange grundtonen i den här exposén över en handfull av mina personliga favoriter.
I tydlig Blasters-stil har denna oförblommerade tvåminutershyllning många festföremål och i stället för att diskriminera, betonas de olika musikformernas kontinuitet och deras gemensamma rötter. Och vad är förresten vitsen med att till varje pris etikettera artister? Den okatalogiserbare Dr. John sa att: "There's only two types of music, good and bad." Så sant som det är sagt.
American Music är uppåtjack med nästan samma nostalgifaktor som Chuckens Back In The USA. Förutom The Blasters produktion har gruppens bägge bröder (Dave och Phil Alvin) även gett ut egna, icke oävna, album.
THE PIXIES
Here Comes Your Man
[4AD, 1989]
I skarven mellan åttio- och nittio-talet var det väl inte många som slog The Pixies på fingrarna när det gällde idérikedom och nyskapande av annorlunda musik.
Here Comes Your Man, från det andra albumet Doolittle, lyfts fram av en barnsligt enkel gitarrslinga men blixtrar inte till och förvandlas till det stundtals oväsen som annars är en ingrediens i många andra Pixies-låtar. För det ortodoxa popoffret kan Here Comes Your Man därför fungera som en lämlig uppvärmning till bandets övriga, tyngre alster.
Oljudet, de snabba växlingarna mellan mjukt-hårt och de absurda texterna är annars Pixies kännetecken. Sanslöst (bokstavligt talat) befriande stökig pop som du tycker om, såvida du inte varit ordningsman i skolan.
Gruppmedlemmarna Black Francis solokarriär och Kim Deals grupper The Breeders och The Amps är förresten också väl värda att kolla upp.
CHARLIE RICH
Feel Like Going Home
[Epic, 1974]
Dr. John är inte den ende pianisten med ett stort rotsystem. Musikjournalisten Peter Guralnicks boktitel, Feel Like Going Home utgör inspirationskälla till låten, som bara är Charlie och ett piano. Resultatet är en ypperlig sammanställning av blues och gospel direkt från hjärtat hos en livserfaren människa som både varit nere på botten och uppe på toppen.
Charlie Rich kallades för "The Silver Fox" på grund av sin i förtid grånade kalufs som, enligt hans fru, han hade förtjänat varenda grått hår i. Hans hårda liv, kantat med piller och alkohol, tog slut 1995; han blev drygt 60 år.
Charlie började som barpianist i Memphis och frugan tipsade Bill Justis på Sun Records genom en tejp. Till en början fick han nöja sig med att vara studiomusiker, innan Sun släppte hans första skiva i slutet av femtiotalet.
Det skulle emellertid dröja tills 1973 innan han slog igenom med Behind Closed Doors, som följdes av en hel rad hits, men melankolikern Rich blev inte gladare för det.
FINGERPRINTZ
Tough Luck
[Virgin, 1979]
I den brittiska punkvågens omedelbara kölvatten fick en mängd mer eller mindre begåvade band ge ut skivor. Tyvärr var de flesta mindre begåvade, få var uthålliga och det mesta var rena skiten. The Barracudas, The Distractions, The Only Ones och några till är väl de enda band som fortfarande håller, så här nästan tjugo år senare.
Men det finns pärlor i dyngan; Fingerprintz Tough Luck är en av dom. Det är en tidstypisk bagatell med ettrig energi och bultande pukor. Associationerna börjar flöda: Flottiga fish & chips serverade i en dagstidning, passiv rökarhosta, skummande öl och pissoarer med drivor av halvupplösta cigarettfimpar i. OK UK!
Eftersom Fingerprintz övriga produktion verkar medelmåttig, så kan Tough Luck ge gruppen beteckningen "one hit wonder". Tyvärr var den så pass vass att den också var ljusår från en listhit. Tough Luck, boys!
JACKIE MOORE
Personally
[Columbia, 1978]
Personally är inspelad då den egentliga soulboomen hade avklingat och ersatts av discoinfernot och då den allmänna funkifiseringen hade börjat.
Det är så typiskt att Personally också ligger i Jackie Moores karriärs nedförsbacke. En sen utpost av "real" soul med andra ord; en stil som nu är på väg att förpassas till de sälla jaktmarkerna.
Sången är mjuk och så bevekande riktad direkt till hennes älskade för att hon ska få (tillbaka?) honom i sitt liv. Hon måste knäcka hans sista antydan till motstånd med refrängen: "I can't send it in, even by your closet kin, I'll bring it to you personally; I'm talking about love. " Jag smälter i alla fall (och står följaktligen ut med synthen).
Som kuriosa kan nämnas att under tiden hon låg på Atlantic (i början av 1970-talet) så kompades hon av den ständigt närvarande Dr. John.


YO LA TENGO
Can't Seem To Make You Mine
[Columbia, 1995]
Att Sky Saxons garageband från sextiotalet, The Seeds, är värda all aktning är en självklarhet. Och att Hoboken-baserade Yo La Tengo skulle tillhöra de hängivnaste beundrare är inte så konstigt, de har spelat in covers från alla möjliga håll.
Gruppens mycket breda influenser kan till stor del hänföras till den före detta rockkritikern Ira Kaplin, en av grundpelarna i gruppen. Låten kan förmedla direktkoppling mellan garagerockkretsen och Yo La Tengo. Men var beredda på att deras musik har en stor spännvidd; från smäktande poplåtar till brusande kakafonier på bästa tidiga Velvet Underground-manér.
Men ärligt talat är Yo La Tengos Can't Seem To Make You Mine egentligen en karbonkopia på Alex Chiltons fantastiska cover från 1978, vilket inte gör Yo La Tengos version sämre för det. Ännu ett varv i musikåteranvändningens kretslopp är fullbordat.
AMOS MILBURN
Chicken-Shack Boogie
[Alladin, 1948]
Om någon till äventyrs skulle tro att rocken började med Bill "tjusarlocken" Haleys Rock Around The Clock eller med Elvis första inspleningar, så går det utmärkt att uppdatera sig med Nick Tosches bok Unsung Heroes of Rock'n'Roll – The Birth of Rock in the Wild Years Before Elvis. Och Chicken-Shack Boogie är en utmärkt ljudillustration till detta faktum.
Pianisten och sångaren Amos Milburn är annars kanske mest känd för Bad, Bad Whiskey och den oförglömliga trion One Scotch, One Bourbon, One Beer. Då förstår ni vad det handlar om. Vilda tillställningar och sprit. Men i Amos fall inte i den ordningen.
"I practiced what I preached", sa han kort före sin bortgång 1980. På ålderns höst blev han helt vit efter att ha supit sig fram till två hjärtattacker. Men här som tjugoåring hedrar han med Chicken-Shack Boogie den tidlösa uppsluppenheten på ett helt bedårande sätt.
THE HEPTONES
Party Time
[Island, 1976]
På tal om partajande, så måste det Lee Perry producerade albumet Party Time, som denna låt (med samma namn) är hämtad i från, tillhöra de mest optimala partajskivorna. Jamaicansk tropisk värme som sätter fart på fötterna formligen ångar från Party Time. Ohämmad glädje i reggaeform.
Vokaltrion slog visserligen igenom genom redan 1966, men frågan är om inte The Heptones stod på sin höjdpunkt just här, ungefär tio år senare. Precis som The Rolling Stones, gjorde även The Clash en kulturgärning genom att också väcka intresset för den svarta musiken, då speciellt reggae.
Som hängiven Clash-anhängare kollade jag naturligtvis upp originalen och referenserna i deras intervjuer, vilket öppnade en ny värld för mig. Det har jag inte ångrat. Stones är inte Muddy Waters och Clash blir aldrig Junior Murvin. But this is the real stuff!
THE FRIENDS OF DEAN MARTINEZ
All The Pretty Horses
[Sub Pop, 1995]
The Friends Of Dean Martinez är ett runt Bill Elm-löst konstellerat band från Tucson, Arizona. De spelar en tillbakalutad musik som många gånger skulle kunna fungera utmärkt i filmer som utspelas i torra miljöer.
All The Pretty Horses från första albumet The Shadow Of Your Smile påminner till exempel om Ennio Morricones musik till Leones spagettiwesterns med Clintan i huvudrollen. Akustiska gitarrer och kastanjetter bygger upp bakgrunden till Elms nästan hysteriskt överdrivna steelgitarr i denna traditionella låt. Coolt. Men The Friends Of Dean Martinez lirar inte på det viset här hela tiden och därför går det att stå ut med ett helt album.
Bland de andra ökenrockrävarna från Tucson inkluderas: Sidewinders, Giant Sand, Naked Prey och Thin White Rope. Samarbete mellan banden banden har alltid varit vanligt. Howe Gelb är därför inte helt oväntat gäst.
DEAD MOON
D.O.A
[Tombstone, 1990]
Ända sen Fred Coles karriärstart i The Lords (1964) och The Lollipop Shoppe (You Must Be A Witch, 1968; kolla in den!), så har han på ett envetet vis skapat musik i olika former. Sedan mitten av åttiotalet leder han trion Dead Moon som vid det här laget nästan gett ut tio album.
Fred Cole utstrålar samma främlingskap som Roky Erickson, Hasil Adkins och Sky Saxon, som alla definitivt fötts på fel planet. Enkelheten är Dead Moons motto. Inspelningarna görs hemma i mono i bästa garagerockstil. Skivomslagen är utan krusiduller i svart och vitt. Mest svart. Precis som musiken och texterna, vilket gör att Dead Moon ger ett väldigt ensamt och på något sätt missförstått intryck.
D.O.A (Dead On Arrival) är inget undantag. Ljudbilden är avskalad och rösten klagande. Det enda pålägget är ett kort solo då några toner från en distad gitarr skär genom det monumentala vemodet.
PETER JÖNSSON
Ursprungligen publicerad i Impact #2, 1997.