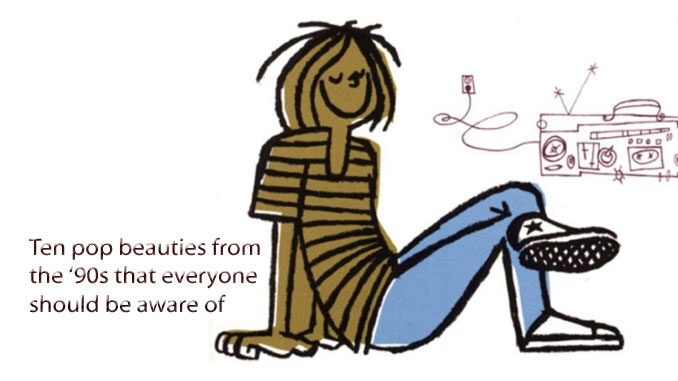 PopDiggers put its temporal pop muscles to the test by expanding the punching range into the '90s as there are, as you will see, at least ten reasons to explore what this decade has to offer in this regard.
This article is structured in the same way and has the same character as our previous pop inventories of the '70s and the '80s, respectively.
Like the two previous articles, this one also excludes British and American top 50 charts just to make sure that obviously well-known songs do not dilute the selected list. The ambition with this presentation is furthermore to mix quite familiar masterpieces with lesser known ones to get some news for everyone without repeating any artists from previous articles. Each song has a brief account of the facts about the artist/group and the song in question aimed to improve your listening experience. Hopefully, you will regard this list as a countdown from ten for a knockout!
FRANK BLACK
Headache
[7"; 4AD, 1994]
When Pixies disbanded in 1993, their primary songwriter Black Francis (born Charles Thompson IV) began a solo career under the name Frank Black. He brought Pixies' surrealistic lyrics and imaginative melodies with him to his solo records. His new phase jump started with an album in 1993 (s/t) and then another one in 1994. Headache is the first single from the second studio album, Teenager Of The Year – jam-packed with 22 tracks.
Headache stands out a bit from most of Frank Black's other songs because it has a straighter melody which thus adds points to its pop qualities. The pronounced use of acoustic guitars and the distinct production operate in the same direction. Adam Bernstein, who at the time also worked with They Might Be Giants, directed the black and white video that underlines the timelessness and the purity of the song.
It seems like not even Frank Black really knows what Headache is about, which this interview suggests. Probably, he more or less sub-consciously wrote about the convulsions that the infinity of time and space give rise to in a searching mind. In the interview, Frank Black also muses that (I Want To Live On An) Abstract Plain (the other one of his two most well-known solo songs) also tangles with existential questions. All philosophy students: get in line…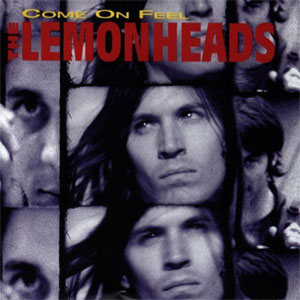 LEMONHEADS
I'll Do It Anyway
[Album track from Come On Feel The Lemonheads; Atlantic, 1993]
Evan Dando wrote many really good pop songs during the '90s as front man of Lemonheads after the band left Taang! Records for Atlantic after three punk oriented records. A cover from 1989 of Susanne Vegas' Luka pointed out the direction ahead. Especially the Atlantic album troika It's A Shame About Ray (1992), Come On Feel The Lemonheads (1993) and Car Button Cloth (1996) embrace the best of '90s' pop – although the albums are complemented with pieces of heavy metal and other deviations from pop in order to build in a healthy tension to keep the listeners on their toes.
I'll Do It Anyway is from their highest charting album, Come On Feel The Lemonheads. Evan Dando has Belinda Carlisle, former singer of The Go-Go's, on his side to help with the captivating chorus. Contrary to the two 7" from Come On Feel The Lemonheads, Into Your Arms and It's About Time, was I'll Do It Anyway surprisingly only launched as a Spanish promo CD single.
After two singles with Lemonheads in 1997, it became rather quiet around Evan Dando due to his self-destructive life that drained all creativity. It was not until early 2003 he was rehabilitated enough to enter the spotlight again with his first solo album Baby I'm Bored, which did fairly well in the UK. Later on, Dando resurrected The Lemonheads live as well as a studio unit.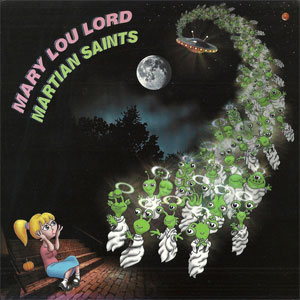 MARY LOU LORD
Martian Saints
[7"; Kill Rock Stars, 1996]
Starting out as a Boston sub-way busker, Mary Lou Lord worked her way into the indie circuit and made her first mark in the record business on the Kill Rock Stars label. Martian Saints is her second 7", which also denotes the start of her longtime association with Bevis Frond's Nick Saloman – who wrote Martian Saints and plays guitar and bass on this 7". On this three track record there is also a song written by her tour buddy Elliott Smith – I Figured You Out, an outtake from his Either/Or album (1997).
Mary Lou Lord's sweet voice mixes comfortably with the dynamic accompaniment, which unites Martian Saints to a perfect pop song. And the Theremin adds all the fitting outer space ambiance you can ask for.
The Martian Saints 7" and her time with Kill Rock Stars was her stepping stone to a bigger label, manifested by the album Got No Shadow in 1998 (Work). Mary Lou Lord had since then stayed in the music business, albeit with a long recording hiatus because of problems with the vocal cords. By the way, don't forget to check out her acoustic rendition of Daniel Johnston's Speeding Motorcycle on her self-titled 12" EP (1995).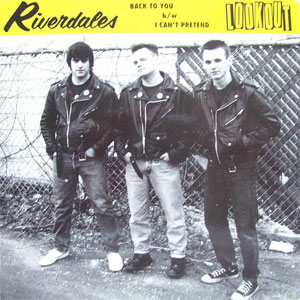 THE RIVERDALES
Back To You
[7"; Lookout! Records, 1995]
Back To You is the A-side of the first single of two from The Riverdales' self-titled debut album, released in 1995. It was recorded by the rather short-lived first incarnation of this Chicago trio, founded by all former members of the punk band Screeching Weasel. The Riverdales picked their name from the fictional small hometown of the comic character Archie and released two albums between 1995 and 1997 – but reformed twice after that, which left another three albums to posterity.
In Back To You, The Riverdales sound like a melodious cross-breed between The Ramones and Green Day. Melodic punk, in other words. No wonder, since the debut album was produced by the couple Billie Joe Armstrong from Green Day and Squirtgun's Mass Giorgini. This leads us to catch The Riverdales in their most melodic mood, while the rest of their subsequent material can be considered a little more punk than pop, and which also leans very much towards The Ramones. This notion of pop a the primary driving force in the beginning is further verified by the fact that Back To You is backed on the single with the non-album cover of The Barracudas' Robin Wills' composed pop gem I Can't Pretend from 1981.
Back To You is further featured on the soundtrack of the teenage comedy film Angus together with bands as Weezer, The Muffs and Green Day.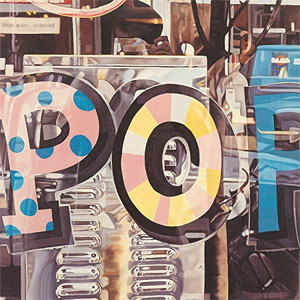 TOBIN SPROUT
Last Man Well Known To King Pin
[Album track from Carnival Boy; Matador, 1996]
Tobin Sprout started out with music in Dayton, Ohio, 1983 with fig. 4 – a band that left a four song EP and a posthumously album (1987) to posterity, exemplified here by Way Way Gone. Sprout has since combined his solo career with a cooperation with the super productive Robert Pollard, and has in that way released records in his own name and as a member of Guided By Voices.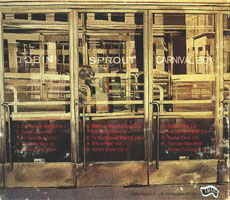 As a musician, painter and writer, Tobin Sprout has many strings on his bow. His discography contains nine studio full length albums and about as many singles/EPs, including a demos & outtakes album and a soundtrack of the film Fortunes (2005). Most recently he released Empty Horses (2020), an album on which The Man I Used To Know can be heard. Besides that, he is a proficient photo-realism painter and a writer of children's books.
Last Man Well Known To King Pin from his debut album Carnival Boy (1996) is a subtle and multi-layered tribute to Syd Barrett with song sections that escalates like a mini-opera's (in the best sense) and it is moreover loaded with references to Barrett:
Madcaps and laughs
Syd Barrett
The last man well known to kingpin
Madcaps and laughs
Syd Barrett
But what's in a name?
Matador Records released Carnival Boy on the same day as Robert Pollard's debut album Not In My Airforce, which is alleged to have taken place without Pollard's consent. On the other hand, it is difficult to avoid such pile-ups given the pace at which Robert Pollard releases records…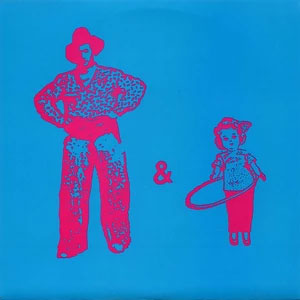 COWBOY AND SPIN GIRL
Nowhereland
[7"; Parasol Records, 1992]
Donna Esposito, who makes up for one half of the duo Cowboy And Spin Girl, started her musical career in The Cyclones, a New York City based band that released You're So Cool on a single [Little Ricky Records, 1981]. After The Cyclones disbanded in 1984, Donna Esposito joined forces with Frank Bednash. They recorded under a number of different names with the practice of dividing the songwriting tasks evenly between them. First constellation of these was called Cowboy And Spin Girl.
Nowhereland is from Cowboy And Spin Girl's second 7", a four song EP from 1992. It is a dreamy almost Byrdesque pop ditty with a melody line that creeps under your skin and stays there. Cowboy And Spin Girl's released two albums, whereof one is a compilation [Odds And Bobs, 1999]. The contact with Mitch Easter was kept from the time he filled in on bass for The Cyclones which made way for Easter to help with the production of some Cowboy And Spin Girl's records. After Cowboy And Spin Girl, Esposito and Bednash transformed into Toothpaste 2000 and then into Mas Rapido. Both these band's discographies are much longer than the one of Cowboy And Spin Girl's.
Parasol Records label was founded in Urbana (Illinois) by Geoff Merritt as an extension of Parasol Mail Order (inaugurated in 1991). It is the leading label in the Parasol Label Group which has many offshoots – such as Reaction Recordings, curated by the help of Merritt's Velvet Crush friend Ric Menck.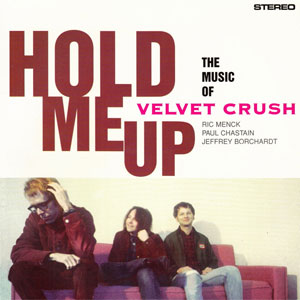 VELVET CRUSH
Hold Me Up
[7"; Parasol Records, 1994]
After playing in various constellations, Paul Chastain and Ric Menck teamed up with Jeffery Borchardt in 1989 with the aim to capture the perfect power pop sound – preferably on record. Their first effort was a flexi-disc with a cover of Walking Out On Love (The Beat, 1979). Two 7" on The Bus Stop Label followed – the second one is produced by Matthew Sweet – which showed that they had come a long way in their goal fulfillment already then. Just listen to how Velvet Crush set the tone early for the rest of their production with their own energetic Circling The Sun and the cover of Teenage Fanclub's early Everything Flows; a single from Teenage Fanclub's first album, A Catholic Education (1990) on Paperhouse Records. Later, Velvet Crush and Teenage Fanclub ended up on the same label (Creation Records).
Hold Me Up is a single from Velvet Crush's second album Teenage Symphonies To God, produced by, in these contexts, the ever-present Mitch Easter. Its title is a literal inversion of a track on their 1992 12" Drive Me Down, taken from their debut album In The Presence Of Greatness (recorded in Matthew Sweet's living room). All their records – at least until 1994 – contain high-octane power pop of the best brand.
Velvet Crush broke up after two albums, but had reunited more than once since then. Ric Menck released a solo compilation album in 1996 and then became a pop missionary between studio drumming – a regular contributor to the top music magazine Ugly Things and author of The Notorious Byrd Brothers for Continuum's 33 ⅓ series (2007).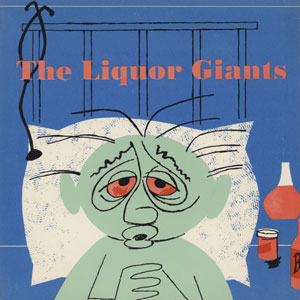 THE LIQUOR GIANTS
My World
[7"; Rubber Records, 1991]
When Ward Dotson left The Gun Club after the first two studio albums (Fire Of Love and Miami), he continued to make similar kind of rowdy music with The Pontiac Brothers for the remainder of the '80s. Thereafter, the character of Dotson's music production continued to shift towards '60s' pop music, which became evident through his new outfit Liquor Giants.
My World is the B-side of The Liquor Giants' first single, which is included on their debut album, You're Always Welcome (1992).The Liquor Giants was a group that had Ward Dotson as the common thread. He was the lead singer, guitarist and main songwriter surrounded by a rotating crew of more or less loosely connected musicians who did the rest.
The Liquor Giants released six staunch albums and a handful of singles between 1992–2000, including the all covers album Something Special For The Kids (1998). A common denominator for these records is that they excel in power-pop, here exemplified by It's Raining Butterflies from the album Every Other Day At A Time (1998) and Chocolate Clown from the album The Liquor Giants (1996).
After the period with The Liquor Giants, it unfortunately is not easy to trace outputs signed by Ward Dotson – known is at least that he tried to make some sort of a comeback in the music industry with Golden Sombrero in 2013.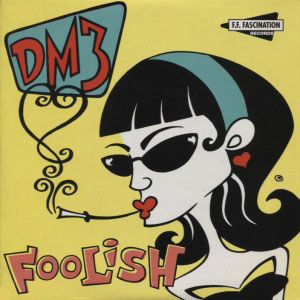 DM3
Foolish
[7"; F.F.Fascination Records, 1993]
Already before The Stems disbanded in 1987, Stems' founder Dom Mariani (vocals and guitar) had recorded with Darryl Mather (an ex-member of The Lime Spiders) under the moniker The Someloves. Their album, Something Or Other (1989), could be regarded as a mile stone in Australian power pop perfection, but its success was not repeated (which was largely due to the record company requested The Someloves to tour before a second album would be considered). Instead, Dom Mariani put together DM3 a couple of years later, and kept the ties with pop guru Mitch Easter (who helped The Someloves in the studio). DM3 hang onto the previously chosen compass direction toward the Center of Power Pop that The Stems and The Someloves had pointed out, and additional to that, DM3 was prepared for live gigging and studio work.
Their debut single Foolish from their first album One Time Two Times Three Red Light [Citadel, 1993] was first in the line of several first-rate 7-inches. Two studio albums – Road To Rome (1996) and Rippled Soul (1998) – and numerous entries in various compilations have additionally helped DM3 build a comprehensive and significant track record.
Along with Don Mariani's reactivations of his main vehicles, The Stems and DM3, in the 21th century, he has also been involved in a number of other outfits since the first break-up of DM3. Check out: P76, The Stoneage Hearts and The DomNicks.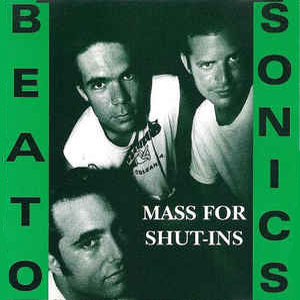 BEATOSONICS
Say You Love Me
[Album track from Mass For Shut-Ins; Freedom Records, 1992]
For many, Beatosonics may be a well-kept secret. If it is that way, it is not so strange since Beatosonics only released one (somewhat hard to get) album, Mass For Shut-Ins in 1992 on Freedom Records, from which Say You Love Me is taken from. Say You Love Me is a wonderful pop song seasoned with a healthy dose of rock'n'roll in a balance that would have made Buddy Holly proud.
Another smash from Mass For Shut-Ins is No One To Cry To – but at the time of writing you have to consult the excellent CD compilation Souvenirs: Little Gems of Pop [Sound Asleep Records, 2009] for a listen to this gem. What is remarkable about No One To Cry To is that it's one of the songs on Mass For Shut-Ins written by Jim Diamond. A tremendous declaration and stopover in Diamond's career before he launched the famous Ghetto Recorders in Detroit in 1996. He produced, and got the most out of, many top – but not exactly pop – combos in this recording studio, for example: Bantam Rooster, The White Stripes, The Compulsive Gamblers and Brimstone Howl.
PopDiggers' interview with Jim Diamond – producer par préferénce – gives some hints of what he was up to before and after Mass For Shut-Ins.
News flash: Jim Diamond has been kind enough to load up No On To Cry To on YouTube for us after the publication of this article.