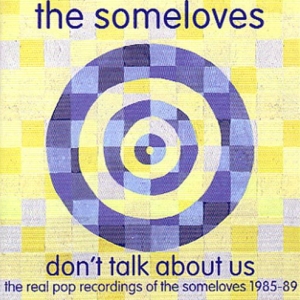 – The Real Pop Recordings Of The Someloves 1985-1989 –
.. and not only the "real pop recordings" but pretty much everything they've ever released … and bit more, which again isn't that much unfortunately, but here you have it all gathered in one lovely double-CD package, with the only "objection" being the chunky 36-page booklet which seems just impossible to be squeezed into the jewel case :-).
After being originally released on the Mushroom label in 1990, and ranked among Goldmine's greatest power-pop albums of all time, in it's re-mastered version at the initial speed (it was sped up for 1-2% because of the "false sense of excitement and freshness"!?) The Someloves' only long player Something Or Other makes it's re-birth here, as put by Dom Mariani himself.
By the time of The Someloves, both Dom and Darryl Mather had already honed their skills as moptopped '60s garage beatsters (with The Stems and The Lime Spiders) and this was their joint valve, for letting their mutual power-pop aspirations run wild, creating what someone called "marshmellow acoustic-driven car radio friendly sweetness pop".
Whatever this descriptive definition might mean, it sure does fit perfectly what's heard in Melt, Know You Now, Little Town Crier, Sunshine Glove, Forever A Dream or Another Happy Ending.
With an extra jangle, they tend to sound like powered-up-'65-Byrds (Back On The Side With You, I Didn't Mean That) or early Big Star's gentler moments (Something You Can't Miss, How She Loves), while it's only with Girl Soul that they seem to cast a glance at the past garagey side of things, and they even seem to have been paving the way for Oasis-type, stadium-sized Lennon-ish balladery in I'm Falling Down.
As for the bonus CD, the so called "Others" are made of the non-album single tracks, mostly being nothing less than the standard set by the album itself, with the debut single It's My Time sounding kinda like another imaginary mid'60s Dylan cover.
Backed by Don't Talk About Us, showing off the pair's appreciation for The Real Kids, and She's A Better Lover, Don't Have To Try and For The Very Last Time, while being hidden on b-sides, all three could've been massive with as-catchy-as-HIT-singles-can-ever-get written all over them.
"Don't talk about them" indeed, just listen, and you're sure to get at least "somelove".
[Released by Half A Cow 2006]