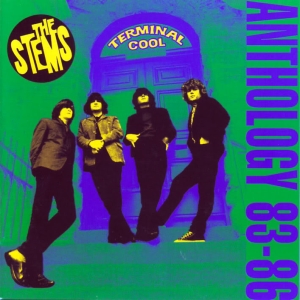 – Anthology 83-86 –
Even though The Stems are considered a household name among the moptopped garageheads all over the world, after a coupla recent Aussie-only re-releases, this one might be the very definition of "long overdue"!
Everything that makes an authentic mid'60s garage beat soundscape is contained within these 70 minutes, starting from moody fuzzed-out punkers such as She's A Monster, No Heart, to the more upbeat, riff-laden freakbeat stomp of Tears Me In Two, Under Your Mushroom or Don't Let Me.
Sometimes recalling some of the cavemanish nuggets of the genre like The Haunted's 1,2,5 or The Avengers' Be A Cavemen, or the more contemporary soulmates, The Gruesomes or The Fuzztones, while Make You Mine, On And On and the Diddley-beaten Mr. Misery share a more conventional r'n'b vibe, though still retaining the usual punky edge.
On a more melodic side of things, Love Will Grow, For Always and She's Fine add a bit of a janglier folk rocking sound, Can't Forget That Girl finds them at their popiest, with equal doses of The Turtles and The Beach Boys, and the unreleased title tune, with it's descending Kinky riff, might be worth the price of the admission alone.
Terminally or not, The Stems were cool, and they still ARE, which you can witness yourself on some of their reunion shows all over the world!
[Released by Get Hip 2005]