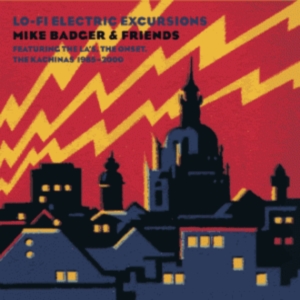 Being a perfect companion to the previous collection of Lo-Fi Acoustic Excursions, this one features the same line up of Mike Badger-related bands, this time around plugging in for an electrifying set of demos, live takes and even dub versions, dating from 1985 to 2000.
Missing the "fame and fortune" of the band he was a founding member of with Lee Mavers, ever since his post La's days with The Onset, throughout all the other bands and solo releases, Mike keeps reminding us of his wasted talent.
This time around, you're about to witness THE KACHINAS' hit single potential, through the distinctively Brit-sounding indie pop catchiness of Weeping Willow, a formula revisited a couple of years later with his solo recording of Underworld, and another Kachinas one called Red Cloud, sounds like a perfect link between the local sounds of the '80s, made by the likes of the Bunnymen, Teardrop Explodes and the like, and the more contemporary one courtesy of The Coral or The Zutons, while the jangly lo-fi demo of Pick Me Up is a huge hit single in disguise.
The latter description also applies to one of THE LA'S earliest songs called What Do You Do?, here presented in a crudely recorded live version, along with three more equally sloppy sounding rehearsal tapes, including the early-Floyd-like psychedelic jam called Painting Dub.
Fitting into the variety of sounds, THE ONSET material ranges from another live psychedelic rave up (Time Bomb), through psychedelicate country (What Say You?), to pure country Americana (Let's Go Home), before they delve into the perfect set closer in the form of a "Creamy blues hideaway" called Hear My Call.
[Released by Generator 2006]