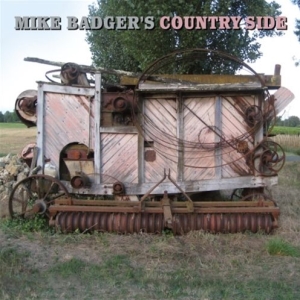 Forever tagged as "The La's founding member that didn't stick around", unlike the-other-one, Mike Badger keeps churning out all kinds of audio and visual arts on a pretty regular basis.
Always steeped deep into the American legacy, the sounds from the Merseyside have always been a perfect marriage of the two coasts, but this particular set sounds as if the Scausers weren't really trying too hard to add any of the local vibes … consciously. Recorded during the last two decades, with different backing groups that seem like a Liverpool all-star line up, Mike's Country Side sounds as if he was born with a cowboy hat on his head.
Had Trees And Plants been a Carl Perkins original, I'm sure The Beatles would've covered it, and on the same Sun-ny side, The Cowboy And His Wife would've easily fit into any of Johnny Cash's Sam Phillips sessions. Daddy's Inside and Dig It are a Buddy Holliesque Texan rockabilly pair, while Ashtrays And Tables And Barstools might've sneaked among the Legacy Edition Sweetheart Of The Rodeo's unreleased bonuses without too many noticing.
Taking things even further back, They're Animals protests in a genuine Woody Guthrie-ish way, and funnily enough, amongst all the originals, it's the cover of Roky Erickson's Clear Night For Love that sounds most British, with a kind of a mid'60s Merseybeat feel.
[Released by Generator 2008]