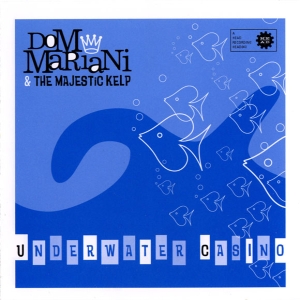 Life has gotten very busy for Dom Mariani. What with the Stems reunion gigs (coming to Spain at Thanksgiving) and reissues, putting together a Someloves retrospective (via Half A Cow), recording an official solo album, taking the lead vocalist/guitarist spot for the currently recording Stoneage Hearts album and this collection of guitar instrumentals.
But you don't get a sense of any stress going on from this set. Life must be good in South Fremantle. Dom and Co. assay a number of styles with everything having an easygoing, "just hanging out" feel.
First number is Roulette, a twangy, reverbed, Dick Dale-style tune accented with rhythmic handclaps and having a kind of jovial nature. Slightly more jovial is Tijuana Dreamin', particularly the bit of bell action and the sweep of the organ that peaks in towards the end and kicks the guitar up a notch, though it only has the vaguest Mexican lilt.
The title track has that liquid guitar with the occasionally drawn out note that brings to mind one of Elvis' Hawaiian movies. Let It Hang intermixes a rhythmic "Spaghetti Western" tune with clear toned, Soulful runs, and totally key is the two second bongo solo.
The next to last tune, Starline, is a lovely, romantic number that recalls the classic Sleep Walk while mixing in a dash of keyboards right out of an old Del Shannon tune.
[Released by Head 2003]