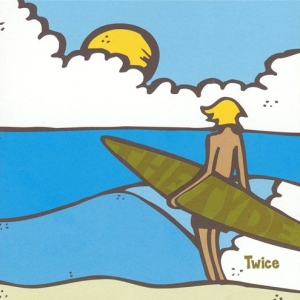 The Rademaker brothers (see Further and Shadowland) are back together again. Held over from Once is keyboardist Ann Do and lead guitarist Benjamin Knight. Taking a turn on the drum throne is once and future Velvet Crush mouthpiece Ric Menck.
The sounds here tend more towards Pop-Rock with jangle and less of the Countryish tint than Once, and tighter yet still seemingly breezy playing. Lead singer-songwriter-guitarist Darren (brother Brent plays bass) has a warble that's part relaxed Uncle Lou (Reed) and part easygoing Marc Bolan, the combination of which sometimes approximates UK labelmate Julian Casablancas [Strokes].
Take Henry VIII, a terse, mid-tempo, semi-rocker built on a lighter version of the Story Of My Life chassis with more filigree and clearer tones. The chiming instrumental break is just lovely including the isolated keyboard solos.
Then there is Shortboard City, another concise rocker, this time with a predilection, like Bolan, for an early Rock and Roll form, including pounding piano and vocal group backing harmonies in the break. The lead vocal, though, is a bit buried in the mix.
His Bolanesque nature is more prominent in the terrific, bouncy rocker Go Ask Yer Dad. The guitars, a mix and match of thick, distorted electric and ringing acoustic, ride a base of organ and firm, propulsive drumming. The melody is honed by the rolling and sliding lead vocals.
More bounce is contained in the shortest number, at two minutes, Crystal Canyon. It powers through them with that Uncle Lou drawl and a clinking electric piano. But its most striking aspect is the sonorous, reverbed, quasi-Surf guitar solo. Even the ballads, Best Intentions and Breaking Up The Band, have a prettiness to them, though they go on a bit long.
[Released by Rough Trade 2003]