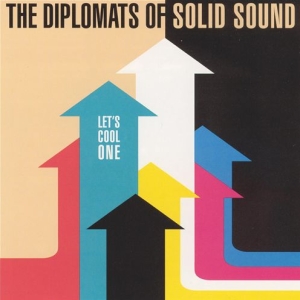 The Diplomats… are an organ — the B3 — led instrumental quartet from Iowa City, who include that man about town, Doug Roberson [see Dangtrippers & Bent Scepters]. The sound is classic lounge R&B, falling somewhere in-between Booker T. & the MGs and the more contemporary, early period James Taylor Quartet [see Prisoners].
The first number, The Cuber Bake, features a big honkin' baritone sax, courtesy of organist Nate Basinger's brother Dave. It's a swingin', swayin' tune riding a melodic groove.
A true dance floor number is the pumpin' Pistol Pete with it's quasi-Motown rhythm and a melodic lift taken from a Captain & Tennille tune (or something like that). The preceding My Place BBQ, a slower potboiler, also seems to quote from something familiar I can't quite place though from a more traditional source.
There is one actual cover, a sort of regimented reading of Sly Stone's You Can Make It If You Try. Escape From Shantytown is a neat slice of funk spiced with a tenor sax that goes all Quiet Storm in its solo.
Will Kalkhoff's tenor is also featured in the extended closing tune, The Plush Club, where Basinger also trades in his organ for a Rhodes electric piano, and together they lend it a loungey, mid-'70s Steely Dan temper. Let's have another round for the house Joe.
[Released by Estrus 2003]