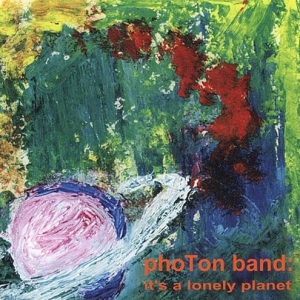 I should first inform you that I've known Art Di Furia — who is pretty much the Photon Band, especially since he was between rhythm sections and just about everything on this album was done on his lonesome — for a number of years now and we're sort-of pals.
That said, this is another mighty fine platter in the Photon Band's oeuvre. (Art is going on a multi-year hiatus to finish his dissertation and have his way with the never ending throng of freshman girls at one of the local art colleges. And while there is one more album just about completed, who knows if there will ever be much expansion of the oeuvre beyond that.)
The record opens with a 1'25" bit of nonsense: an overlapping parade of tape loops, called Re-Entry Burn. It might be art, but that's why the modern world has such wonderful things as programmable CD players.
Once that's out of the way, never to darken your door again, comes the title track. It continues with the tape manipulation interweaving a calmly picking, rhythmic electric guitar with what I guess is a backwards masked one. His voice comes in gently, lightly soaked in a distancing reverb. As on many tracks here there are no drums.
So, as the guitars repeat over and over the tension builds and you expect it to burst into Rock. But it never does, not through the "found" dialogue overdubs or the addition of a third, highly distorted guitar. Yet that lack of release, and the forlorn melody of Art's vocals might be what makes the song so memorable.
There is nor real "kicking out the jams" on this platter. Next is Outer Space which features a pulsing, phased guitar, a killer bit of Psych jangle, another sweetly forlorn, treated vocal and, this time, drums. It all adds up to a classic slice of '67, proto-Brit Pop.
Indirection (School) slathers on the Psych idioms (and throws in some very cool handclaps) in creating a true pop nugget, though at 5+ minutes it gives Art time to get carried away and goes on about two too long.
The longest number here, at 7+ minutes, is Closer, which ironically or not is the next to last track. Yet it holds my attention much better, even if it only seems to be an appropriation of the Zodiacs' #1 hit Stay"via Jackson Browne's cover, though with a whole battery of guitar efx ladled on.
The finest Pop tune here, if I had to choose one, is the semi-rocking, full band re-creation, Beatlesesque Paper Plane. It's sort of a cross between Paper Sun Traffic and Spicks & Specks Bee Gees, if you can imagine such a thing.
The final number, We Don't Care Anymore finds Art getting in touch with his inner Ray Davies, circa Village Green… Lightly picked/strummed guitars and his keening, straining vocal start it off (and those damn bird sounds, which get tiresome quickly) while the chorus brings in a rhythm section and multiple Arts (and some kind of laugh track). It might be ennui, but it's of the delectable sort.
[Released by Darla 2003]