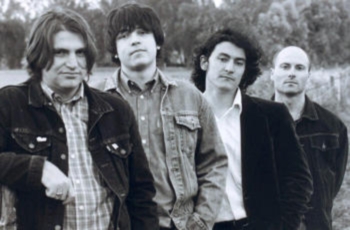 Joe Algeri is one of today's Australian power-pop icons who's, constantly delivering infectious melodies and guitar rifles/jangles, managed to open the international doors for his band Jack & The Beanstalk, which resulted with the cult-status in Sweden or Spain and also a very respectable rating among the US genre-followers.
After the eponymous debut in '96, with their second album the band opted for a row treatment of the usual material by playing almost live in the studio consciously avoiding the productional polishing.
The cover of the album itself successfully shows the applied concept combining the Pet Sounds design featuring the pop sophistication against the ranch-and-a-cow instead of the llamas-in-the-Zoo, featuring the rock/country roots.
The title is also pretty descriptive connecting the cowboys (Australian though) and Joe's new homeland, Sweden, the constant pure guitar-pop provider. An amazing degree of diversity that Jack & The Beanstalk manage to squeeze into less than thirty minutes, starts it's shaping with the expected power-pop jewels like Two-sixty-five, She Drives A Volvo or the Raspberries-tribute Raspberry Jam with the characteristic "harmonies against riffology" formula.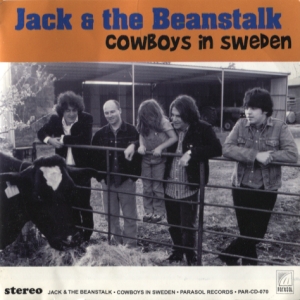 Then goes the mini master-piece of Ramones-simplicity with it's title Baby mentioned exactly 32 times (!) in 1:45 minutes while the Neil-Youngish Heard It Before with the great Farfisa-break and the bluesy harp and Shame feature the more straight ahead rock-approach.
Pop Fantasy is actually the materialisation of the album title with it's country-pop sound and Sing Along is the kind of a song that could considerably contribute to the The Rolling Stones' never-ending career to make more sense, which leaves us with Complete as the only "non-mutated" pop form.
The official part of the album is followed with three bonus tracks. Curiosity from the first album and the debut single Gram Parsons (GP 2001 here) are re-recorded in the same "live in the studio" way and Who Will Save Rock'n'roll is a cover.
After Algeri's departure to Sweden, maybe a bit of an Europisation of the sound was to be expected, especially after he spent some time playing with some area-bands, but Jack & The Beanstalk successfully accomplish the wanted goal with another kind of slightly surprising, though not so drastic change.
[Released by Parasol 2001]