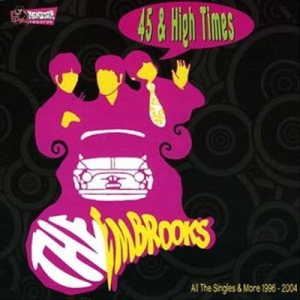 – All The Singles And More 1996-2004 –
If you have never experienced the "high times" according to The Embrooks, this a perfect place to start. Unfortunately enough, as confirmed by Mole, the main Embrook himself, this happens to be the band' swan song too, as they are no more.
However, considering that they've been around for almost a decade, reminding of some of the coolest moments from the times gone by, and that their recorded legacy will continue to do so, there's not really much to be "so sad about".
As for the content of the package itself, because of the lack of some superb albums-only tracks, it can't really be considered an actual career overview, though almost every single one of the "missing ones" (except maybe The Twisted Musings Of Sir Dempster P.Orbitron (Deceased) from Yellow Glass … and Springtime from Our New Day) is included on the additional, Radio Sessions CD (Standing Upside Down, Helen, Not A Priority, Happy Fickle Girl, Emilia Burrows), proving that they're capable of delivering the goods live too, making it almost perfect.
The chronology shows the band developing from (mostly Americanized) reverb-laden teen punk jangle of the early singles and debut album (But I Didn't Know Him, Where Were You, Things Come Back To You, Please Don't Worry) with an occasional nod towards the "shape of things to come", as heard in "Syndicated games" of Don't Ask Me Anymore.
Announcing a sort of a "homecoming" through the classic (yard)bird-flights through freakbeat "creations" such as If You Let Me Go, Keep It Quiet or More Than Ever, all leading towards their final shape of an ultimate moderndaze embodiment of a post-mod heavy Britsike "attack", providing such genre defining classics as Jack, Back In My Mind, A Note In My Drawer…
As an additional recommendation, I might as well add that the CD comes in the usually cool pop-artish cover that is worth the price of admission alone, even if you already have all the singles and don't feel like hearing the radio sessions (which doesn't really sound logical).
[Released by Munster 2005]