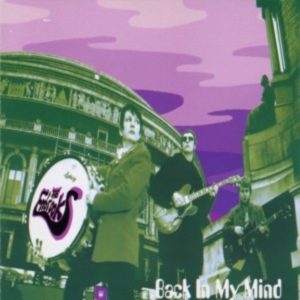 Remaining in the soundscape of "their new day", featuring a mod-band- turned-psych freakbeat, The Embrooks are back on the scene, exploring the "back of their mind" and takin' us back in time.
Even more than on their previous release, the initial moody teen-beat turns into a bit heavier sixteez audio-mutant. The EP opens with the noisy freakbeat intro, followed by some popsyke MOVEments towards the WOODen melody of the title tune.
Another kinda WOODen connection comes with The Time Was Wrong, which sounds like a harder take on Creation's For All That I Am, but still having it's own identity, and it's appropriately preceded with A Note In My Drawer and it's pop art-ish guitar "creations" and power chords reminding of "sorrows" but still making you happy.
As usual, the choice of covers remains in the area of "classics that never were", and this release ends with an epic version of Mike Stuart Span's Children Of Tomorrow, a title that precisely describes The Embrooks' role in the concept known as "the sounds of yesterday tomorrow!".
[Released by MBP 2002]