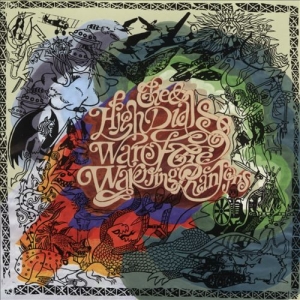 Getting even further "away from the numbers", after The Datson Four's 2002 '65/'66 Carnaby styled audio postcard, followed by the re-named High Dials' Zombified mod-ernisms the next year, with this new one, they finally manage to catch up with the moderndaze.
Personally, I'm kinda more into their initial retro-futurism, but I've got to admit that from the general public's point of view, and if there's any justice left in this big ol' world, this might as well be their breakthrough album.
It's all made very clear right from the very opening number, the big, pounding, Spectorized power-pop sound of the slightly-Sorrow-reminiscent The Holy Ground, also reminding of the works of the Pernice Brothers.
The next couple of tracks (Soul In Lust, Our Time Is Coming Soon, Strandhill Sands) sound kinda like shoegazing-revisited by way of The Lilys' kinky popsike, while A River Haunting doesn't fall much farther neither, with it's post-shoegazer jangly "ride", complete with the Motown "rave-up" ending.
With Master Of The Clouds, they're clearly showing off their Big Star 'Fanclub membership, the Pulp-ish Higher And Brighter takes it back to the (more usual) British side of things, as is the case with the folky pair of Dust In The Sun and The Drum, which wouldn't sound out of place on Pete Dello's '71 solo album, while with Winter Ghosts they dig deep into the baroque styled psychedelia.
As they say themselves in one of the songs, their time should really be coming soon.
[Released by Rainbow Quartz 2005]