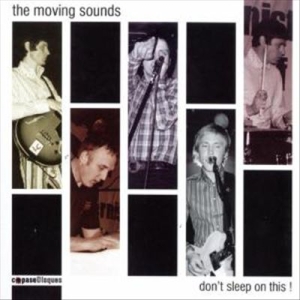 There must be some kind of a sixties radiation dust hanging over Sweden, sawing the seeds of the times gone by, after which all of these beat, mod, garage-and-whatever-else '60s-inspired bands are shooting up like magic mushrooms after the rain.
After The Crimson Shadows and The Stomachmouths, followed by The Strollers and The Maharajas, the brand new breed comes in the shape of the most recent releases by The Mainliners and The Moving Sounds.
"Moving" mostly towards the soulful mod organ-isation, the "sound" of The Moving Sounds comes as a combination of the Trevor French-fronted-Clique-like pumping Hammond-laden freakbeat (The Blindfold, The Sky, (I've Found) Perfection) and blue-eyed soul stomp as heard through the original Emotions & Time.
As well as a couple of cool covers such as Brian Auger's Tiger, The MVP's Turning My Heartbeat Up and The Blues Project arrangement of Two Times (also known as Wake Me Shake Me).
Along with the Action-packed image and the liners provided by The Untouchables' own Rob Bailey, this one's most certainly a mod-certified product!
[Released copaseDisques 2004]