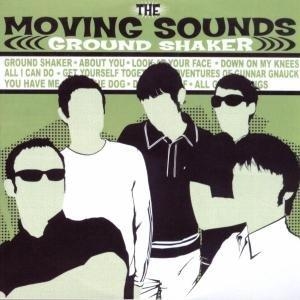 Sticking to the same "ground-shaking moving sounds" established by the time of their 2004 debut album Don't Sleep On This! (reviewed elsewhere on these pages as well), The Moving Sounds' sophomore long-playing release, offers an even more consistent collection of songs.
Mostly to be filed under the Hammond organ-ized mod-ish dance floor grooves, such as the opening title tune, Down On My Knees, All I Can Do or You Have Me, with an occasional detour towards more pop oriented, blue-eyed soul sounds, as heard in About You.
Or some downright "bluesbraking" r'n'b stomp of Look At Your Face, sounding not unlike '90s soulmates The Clique, while they're quite capable of showing off their grittier, more garagey punk side, as with the frat-rocking Do The Wolf, or the cover the 'Prunes' Get Yourself Together (You Never Had It Better).
In short, these are "sounds" that are sure to make you "move'n'shake" in no time.
[Released by CopaseDisques 2006]