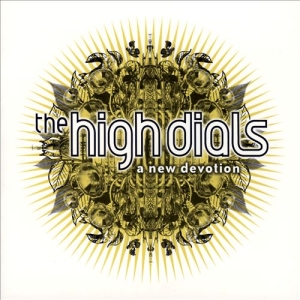 Adopting a new band name with every new release really might seem like new devotions. If you ask me, everything is forgiven to the former Datson 4 (and The Datsons before that), as long as every new devotion comes with great music.
Anyway, the new name is the one that suits them the best actually (though it might've been more appropriate on the previous album, because of the mutual Who and mod-in-general references).
Though I must admit that I still haven't really gotten into it, according to the label's press release, "A New Devotion is a concept, revolving around an individual named Silas and his attempt to escape the unseen powers in a nightmarish city of future". On the musical side of things, The High Dials capture that retrofuturistic feel, also heard by bands such as Wondermints, or the Spanish labelmates Sidonie.
The album opens with an 'Airplane flight through the west-coast harmonized piece of power-pop (Diamonds In The Dark) , not unlike it's done by The Grip Weeds, and the same goes for the Beatles'66-mix called Antenna.
The early Who backing McGuinn,Crosby & Hillman is what comes out of The Dead Hand and especially the following one, Desiderata, with Daltrey stepping in for the gentler outro part.
Silas, Please Come Home takes it almost a decade forward with it's power-chords and bass "entwistlings", TV Mystic mixes early Beatles/Zombies melodicism with some psych vibes and My Heart Is Black takes the "circleshaped" guitar riff into a new dimension (or is it a devotion?), just like Morning White Vibration does with The Move's "grass grow".
Occasionally, all the mentioned is being replaced with the late Zombies "double O" sophistication, starting with the chamber pop of Can You Hear The Bells and continuing with Leaving Alphaville, St.Marie and Sweetness And Light, as well as with The Birds, featuring an opening that could've come from some '60s spy soundtrack (an idea also explored in the mod stomper Save The Machine!). Some more Zombie heaven, wrapped up in the "forever changing" arrangement, can be heard in Assassins.
Looking forward to discover the band's next devotion, which should supposedly come under the existing name.
[Released by Rainbow Quartz 2003]