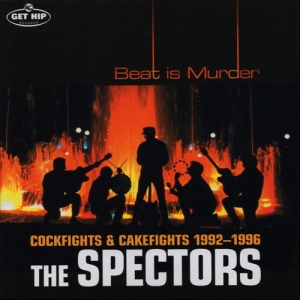 It's pretty natural that one of the long awaited garage-revival re-releases comes from one of THE garage-revival labels, making these sounds "get hip'n'happenin'" once again.
Among garage fans, mostly known for their involvement in resurrecting The Monks' legacy, The Spectors finally get their long overdue praise. Besides the expected cover of The Monks' Oh, How To Do Now there's also a coupla more well chosen ones, like an unreleased Thor's Hammer-tribute EP, the Aussie '60s garage punker Out Of Order, originally by The Allusions, two more recent ones, The Nashville Ramblers' supermelodic mid'60s beat-recall The Trains and Mike Stax's Hoods' Keep On Lying, as well as the Fire's freakbeat "creation" Treacle Toffee World.
Placed right alongside the later (on the CD, as well as on the Swiss-only single!), is a possible highlight of the album, an original called Rhubarb Ruby, a pop-artish piece, packing it all in, from mod/pop through freakbeat and psych to garage punk, summarizing the whole concept.
In a similar vein comes another "pretty" freakbeatster, Lunch Box, Friday A.M. is an almost hysterical, highly melodic, pop frenzy, while In My Grave sounds like a bunch of garage punkers noire, covering a Little Richard tune.
When they get a bit mellower, The Specters are just as good! That Girl Is Leaving Town and When The Girl Of Your Dreams are a pair of upbeat, mid'60s hits that never were, carried on a rhythmic "heatwave" and there's even a great beat ballad Her Best Friend, "a sensitive one" as they call it themselves.
The only way the beat might cause "murder" is the presence of an inside-tension between the band members which was frequent in the Spectors' camp.
Otherwise, the only thing this kind of a beat can be, is murderously good!
[Released by Get Hip 2003]