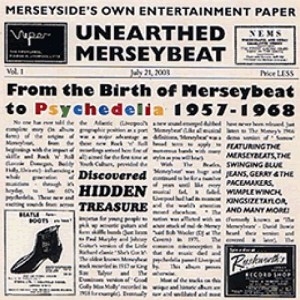 After "unearthing" a bunch of more contemporary shoulda-been-classics on the previous two volumes of the Unearthed series, it was about time for the Viper label to dig out some of the "ancient" reasons why we bother to explore the sounds from the Merseyside for all these years after all.
Telling the story "from the birth of Merseybeat to Psychedelia 1957 – 1968", would've actually made more sense in case of a chronological order, but you can choose your own way through. For me, it's about three distinctive phases: pre, THE & post Merseybeat.
The first one is, of course, of the greatest historical, though not really musical, importance, gathering some of the earliest and rawest recordings of what was to secure Liverpool's place in the r'n'r history, by the likes of Johnny Guitar & Paul Murphy and King Size Taylor & The Dominoes, covering Little Richard tunes, or the very first Gerry & The Pacemakers effort in trying to re-capture the Cavern atmosphere on a tape, as well as The Remo Four's first instrumentals, before becoming an in-demand backing band on the scene.
THE Merseybeat essence is featured through Danny Seyton & The Sabres' r'n'beatster House Of Bamboo, The Merseybeats' The Things I Want To Hear (Pretty Words) which could've easily pass, since it's author's unknown, as another Lennon/McCartney giveaway track and there's also the pre-Paddy, Klaus & Gibson band, The Eyes (not the London mods!).
Verging on the edge of (post)Merseybeat is The Newtowns' appropriately titled Tomorrow, announcing the aftermath of the mid'60s'. A special place belongs to an unsung Liverpudlian hero, Jimmy Campbell, featured with The Kirkbys, showing his rare Byrdsy folk side (Don't You Want Me No More) as well as his pop perfection (Dreaming), before coming up with the Britsike classic Michael Angelo with 23rd Turnoff (not included) and he also provides one of the album highlights, the popsychedelic Keep Me Warm ('Til The Sun Shines), done, surprisingly, by The Swinging Blue Jeans.
The well chosen opener is an alternate, brass-less version of The Merseys' Sorrow, Billy Furray's brother and former Joe Meek protégée, Jason Eddie, is featured with Mr.Busdriver, sounding not unlike a great Del Shannon cover, and the closer Rumble On Mersey Square South by Wimple Winch (also present is the pre-WW band, The Four Just Men with the Meek-y, spaceish Instrumental), is a harmony drenched, freakbeat-en piece, showing that what caused the initial British invasion, was still alive and well in the late sixties … and long after that.
[Released by Viper 2003]