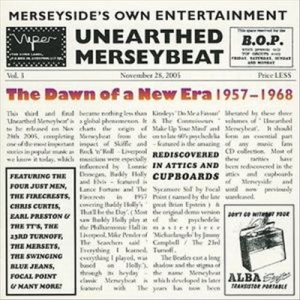 As with the previous two, the third, and the last, installment of the series that finds us diggin' through the Scouse musical legacy, offers a couple of classics that never were, some insight into the very beginnings of a couple of well known names from the scene, as well as some pretty raw sounding acetates, offering much more of a historical than musical experience.
Anyway, of those making the "classics" section, the only entries that truly represent the actual Merseybeat formula are the opening Do Me A Favour by THE KINSLEYS, from Billy Kinsley's "in-between" Merseybeats days, THE CONNOISSEURS' Make Up Your Mind, STEVE DAY & THE KINSMEN's The Last Bus Home, as well an unreleased MERSEYBEATS' recording, the stomping Kit Lambert-produced version of Soldier Of Love, clearly anticipating his days with the 'Oo.
Of course, there's no possible way for you to dig the Liverpool underground without running into some of Jimmy Campbell's stuff. Even though his entire '60s output is already available on an RPM CD release, the inclusion of THE 23rd TURNOFF's appropriately titled "revolving" psych Flowers Are Flowering and his own solo demo of Michaelangelo, already suggesting it's classic potential, are more than welcome additions.
The rest of the non-usual Mersey content, includes CHRIS CURTIS' post-Searchin' croon of (Baby) You Don't Have To Tell Me, abandoned after he'd learned that the Walkers' are doing the same, while FOCAL POINT's only single's b-side Sycamore Sid is a piece of first-grade Britsike.
Even though this is being declared as the end of the series, I suppose you can never know with an inexhaustible source, which the Mersey side definitely is.
[Released by Viper 2005]