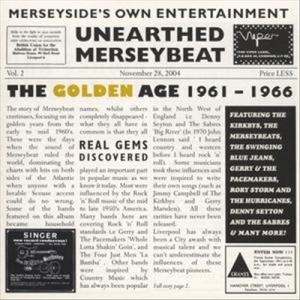 After the story about "the birth of Merseybeat to Psychedelia 1957 – 1968", (on Volume 1), this one is labeled to focus on "the golden age 1961-1966", which isn't much different from the first one actually, but what's more important, it's that the quality of the excavation objects doesn't differ either, offering a whole bunch of shoulda-been/soon-to-be/long-forgotten classics of the genre.
Again, the quality of some of the tracks is pretty poor, but it becomes kinda irrelevant considering the fact that they come from the only (fortunately still) existing sources, giving you an insight into some of the first recordings of the likes of The Swinging Blue Jeans, Gerry & The Pacemakers, The Merseybeats or even the legendary Rory Storm & The Hurricanes (post-Ringo).
Though all of them are (finally) available on a separate release now, the highlights of this one, just like on the first volume, must be Jimmy Campbell's tunes by The Kirkbys (the sixties equivalent of The La's, according to Spencer Leigh). Penny In My Pocket is almost like the 'Spoonful, had they come from the Merseyside, instead of the Hudsonside, while Bless You is a classic piece of Scouse-meets-the-Everlies.
Other standouts include Denny Seyton & The Sabres' beautiful '50s-ballad-by-way-of-beat-band Karen, some more pre-Wimple Winch efforts by The Four Just Men, The Delmonts' cool rendition of Bo Diddley's Before You Accuse Me, a frantic take on Larry Williams' Bony Moronie by Earl Preston & The TT's" The Drifters' "trackarack" Please Stay turned into another beat ballad by The Newtons, or a rather unusual choice of Over The Rainbow (which isn't that much of a surprise after all, if you were lucky (or old :-)) enough to visit The Cavern during those early days) by the same band, which they manage to handle successfully.
According to the liner notes, there's already another volume promised for the next year, so even though at first it seems hard to believe, I'm sure there's still a lot of treasure to be unearthed.
[Released by Viper 2004]