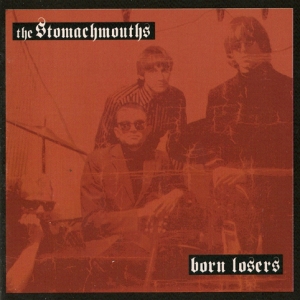 After the re-release of The Crimson Shadows' complete works three years ago (on In Between records), it was about time to do the same with The Stomachmouths' back catalogue and thus, make the Swedish/Stockholm '80s garage scene puzzle complete … again.
It's sad that it had to be done by the band's own front man Stefan Kéry, himself, but to look at the bright side of it, he's done a GREAT job, gathering 25 tracks alongside Patrick "Lama" Lundborg's more-than-informative scene overview.
Being purists to the core at their approach, with mop-topped haircuts, mod regalia and an authentic sound, the Crimsons and the 'Stomachs were the bands that brought the American mid'60s garage punk across the ocean.
Spread over a little more than three years, The Stomachmouths' legacy fulfils all the conditions needed to be included on any of the Back From The Grave/Pebbles type compilations, if only it had been recorded back when it was supposed to be.
The earliest recordings all stand as a proof of the bands' exclusively American '65/'66 teen punk angst devotion, featuring fuzzy guitars, Farfisa screams, manic rhythms and Stefan's freaky growl (sometimes the titles like Speed Freak, Something Weird, Don't Mess With My Mind or Dr.Syn tell it all) and with an ex-Crimson Shadow, Jens Lindberg, stepping into the picture, an occasional foray into the Brit/Dutch-sounding freakbeat could be heard (Don't You Know, Heart Of Stone).
As faith had it, it was only a matter of time when will the scene's two main characters join, for what was to be (IMHO) the ultimate Swedish garage band.
Though it could've been released earlier, this might as well be just the right time for The Stomachmouth's CD, showing how it should be done, in the wake of the latest so called "garage" phenomenon, represented by "stripes" of all colours.
[Released by Subliminal Sounds 2003]