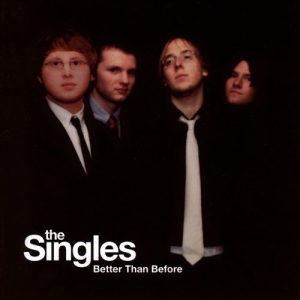 It's funny to hear that some boy from Detroit got into Motown through finding out about The Beatles' influences and that's exactly what happened with The Singles' songwriter, Vince Frederick.
Ever since, besides the obvious Beatle-fixations, he followed the natural progression of absorbing the best parts of what happened before and after them, coming up with an album that should've been self-titled because that's what it really is: the singles… 14 of them !!!
The album opens with an innocently titled mid-'60s-garagey Beatlism I'm In Love With You, not unlike it has been done by The Waking Hours, to be followed with the Mersey-less "shot of r'n'b" called I'll Be Good To You, a style they get back to once again with the title tune.
On the more contemporary side (?!), Since You've Been Gone could be compared to the much more melodic Strokes or the fellow Beatlemaniacs, Cotton Mather, just like She's Gotta Hold, that must've been forgotten somewhere in the backpages of the Lennon/McCartney songbook.
See You Again is an obvious, powered-up Buddy Holly tribute, the ballad There's Nothing Wrong When I'm With You takes us back to the Mersey shores, just like Until You Came Along, which is like Marc Bolan doing an early Beatle-tune.
No More Places (Left To Go) is a piece of pop-art noise from the other side of the "Moon", while the pair of power-poppers It'll Never Be The Same and He Can Go, You Can't Stay justify the Knack-ered, skinny-tied cover art.
According to the POPISM radio show, one of the HIGH contenders for the album of the year, that must be taken just as HIGH above the current roster of Motor City garage "revivalists".
[Released by Rainbow Quartz 2003]