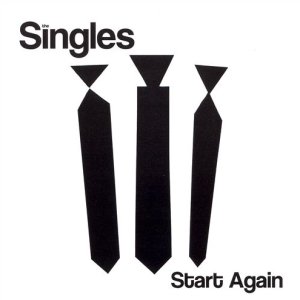 Already deserving a cult status just for the fact that he happens to be a guy from Detroit, who's found out about Motown, through exploring The Beatles' influences, Vince Frederick "starts again", fronting a brand new, three-piece line up, compared to the one featured on The Singles' FABulous 2003 debut (reviewed elsewhere on these pages).
Said to be less Beatlesque than it's predecessor, let me make one thing clear about this one, whatever it might sound like, however much you've loved Better Than Before, you'll love Start Again at least just as much!
Hearing the opening pair, I must admit that I had my own doubt or two, with I Want You Back Now being more on the late '70s punk side of the skinny-tie thing, by way of Buzzcocks, and with Love Is Just A Game being a kind of a moderndaze piece of witty power-pop, complete with a Fountains of Wayne-like twee synth riff.
Still, as soon as I've heard the moody, mid'60s kind of a teen jangle of When Will She Be Mine, I knew I needn't worry, and that they're still just as much of a "singles" band as they were, and that their "new start" isn't anything but a continuation of where they/he had left off almost three years ago.
Even more convinced I got during the following Summer and its folk-rocking kind of a sped-up Harvest Moon guitar riff, as well as The Most Beautiful Girl, with the obvious spiritual presence of "metal guru", who actually happens to be all over the record, teamed up with Lennon.
The one that I'd "single" out myself, is the moody, Mersey flavoured, minor-chord Zombie-heaven called Better Days, while the most obvious hit-in-the-making must be the almost discoid power-pop title tune, and while we're at it, getting closer to the roots of the genre itself, the closing I Don't Wanna Be The Last To Know is sure to make you gaze at the Big Star with your eyes wide open.
On an even more vintage side of things, Annette sounds like an obvious Roy Orbison tribute, while Cryin' Over You is a bit wilder piece of a rockabilly, more in a Gene Vincent vein, and however sad the title of Goodbye Little Girl may sound, they rawk it out right into your "faces" in quite a good-time-ish way, not unlike with and it's garagey Kinky riffs.
Start again … and never stop! … or at least don't let us wait for three more years.
[Released by Sound Artifacts Music 2006]