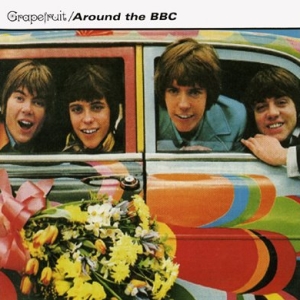 Never having been taken too seriously because of the Beatles connection, even though the contribution was almost purely financial, the "fruits" of Grapefruit's predicted fame have always stayed kind of sour, in spite of the more than obvious quality of material, written almost exclusively by then Apple staff writer George Alexander (born Alex Young), the oldest of the Young brothers (George, Angus and Malcolm of The Easybeats and AC/DC respectively).
Instantly surrounded by three ex-Castaways, Alexander suddenly found himself in a group on The Beatles' own label, with Lennon providing the group's name, after Yoko's book title, and fame'n'fortune seemed just a song away.
Still, churning out bubblegum-ish power-pop, with some of the sun shiniest harmonies this side of the ocean, didn't seem to be enough for the band to end up on top of anything else, except for the (Top of the) Pops, and other BBC hosted shows, where they happened to be one of the regulars.
All of their known and surviving radio sessions between '68 and '69 are collected here for the first time, mostly showing of the band's more stripped down and rawking sound, except for the first one from January 1968, performed with the Bill Shepherd Orchestra, featuring the yet to be released debut single Dear Delilah, complete not only with the phasing effect, but with the string arrangement being even more prominent than on the record, along with the pair of unreleased pop jewels.
Breaking Up A Dream sounds more sophisticated than the Move-ing version of this Gouldman-nered tune, later released by Ways and Means, with it's bridge later used in Elevator, while Trying To Make It On Monday is a full on baroque pop classic that never was.
More otherwise unavailable material comes in the shape of Somebody's Turning On The People meant as a Friends-era Beach Boys kind of a back-to-roots-y type of a rock-out, and being even more so in this particular version, compared to the one later released in the USA by Goldrush, and there's yet another "big pounding" Move-ing moment, provided through the cover of Danny Laine's Say You Don't Mind.
The band's latter days change of direction was already suggested on their last radio session from July, in 1969, with both Deep Water and Thunder & Lightning sounding not too unlike early Humble Pie, fronted by a considerably less-soulful-than-Marriott (new) vocalist, which seems to decrease the level of that kind of a groove quite audibly.
Along with some of the demos, available on 94 Baker Street: The Pop-Psych Sounds From The Apple Era 1967-1969 (also on RPM), these happen to be at least an integral part of, if not even more important than the regular release of Around.
[Released by RPM 2007]