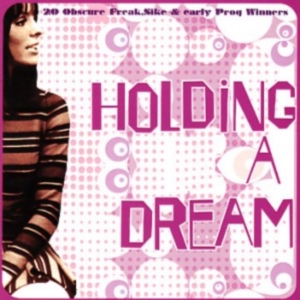 – 20 Obscure Freak, Sike & Early Prog Winners –
Expanding the previous exclusively European based volume Le Discoteque Psychedelique (reviewed elsewhere on these pages) onto the American continent as well, and still sticking to the late/early period as the main source, this one's sure to keep the dance floor just as crowdy.
The opening title tune by the Welsh Northern Soul scenester GENE LATTER sets the tone with his usual kind of a blue eyed funk, with the surprisingly sweet sounding pre-Uriah Heep combo SPICE, adding a bubblegum-ish quality to the same matter.
Getting quite psychedelic within the equally danceable rhythmic coda, are the Swedish bluesy progsters LOTUS, as well as the Californian YELLOW HAND, featuring an, at the time (1970) unreleased Neil Young tune Sell Out (on their album, along with Down To The Wire and four of Stills unreleased Buffalo Springfield tunes, now available as demos on their box), while Spaniards ALBERT BAND provide a spooky "brown coloured" trashy-mod-freakbeat-hard-psych crossover.
Other "obscure winners worth the mention include a latter days Music Machine-like fuzzed out garage punker from New York's PEGASUS, some psychedelic latino sounds coming from the Swiss SOUNDATION, as if putting "Satisfaction-through-Santana, Cleveland's CIRCUS add a power-popin feel to an otherwise proggy number, while MARTHA VELÉZ is an American girl, residing in UK, with a song that isn't too unlike some of Sharon Tandy's freakiest stompers.
Hold your dream until the next volume …
[Released by Boss-A-Tone 2007]