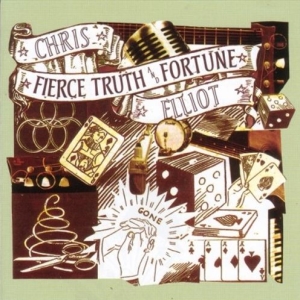 Looking for genuine Merseybeat sounds these days, one of the last places on earth you should look in is Liverpool, and strangely enough, if what you feel like hearing from a moderndaze artist, is some of the most rootsy sounding American tradition, the closest you'll get to it, is the exact same place … which, then again, isn't that strange considering the fact that the Mersey shores are where this tradition first arrived after crossing the ocean back in the fifties.
After the likes of Edgar "Jones" Jones or The Hokum Clones, Chris Elliot is a young singer-songwriter offering another stripped-down, mostly acoustic, scouse take on all things American, with an occasional help form seasoned local scenesters Paul Hemmings and Mike Badger.
Not only does he seem blue enough for his age to deliver stuff like Love Don't Mean A Thing, Not Even There or Nailed To The Floor, but takes it way down to the very delta as well with Million Reasons, while the pair of Raise The Dead and Oh Love, Lord Above both share an almost gospel-like feel.
Taking things down the country road, you'll either Lay It Low or Let It Roll with this "Handsome man" being All I See, and of course, with an acoustic guitar in hand, there's no way Chris could've avoided the folky thing.
Which doesn't seem to bother him too much, as evidenced with Butterfly, Hurt, Cheat And Lie and Scarlet Lace in a more traditional Dylan-ish way, or Can't See The Light by way of Van Morrison, and being just as folky, Out For The Sea happens to be the closest he gets to a conventional pop song format.
However fierce his truth may be, I'm sure his fortune won't elude him, at least the spiritual one.
[Released by Viper 2007]