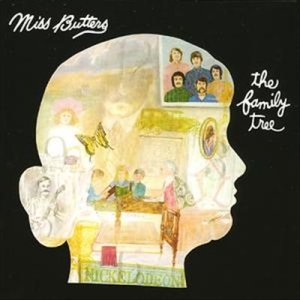 With this Californian band's actual family tree, not having some particularly famous names to mention, except for their frontman and main author, and future power-pop cult figure Bob Segarini, and maybe, from the standpoint of a freaky '60s aficionado, a pair of ex-Brougues, Bill Whittington (from the 'Tree's early line up) and Gary Grubb (soon to be Duncan, from Bob's pre-'Tree band Ratz, and future Quicksilver), as well as future solo artist Lee Michaels (another early-'Tree line up member, as Mike Olsen), the "branches" surrounding The Family Tree, within the same "wood", can almost provide a story of it's own.
Still, sharing the same producer, arranger, cover artist, as well as some of the session men, with their close friend and RCA labelmate Harry Nilsson's Aerial Ballet, Bob's credits, running from the tambourine player on The Beau Brummels' Laugh Laugh, through the unaccredited power drill player on The Beach Boys' SMiLE-related "Woodshop" sessions, to him being offered The Grateful Dead frontman slot in 1969.
Recording with Sonny Bono in Goldstar studios, having water gun fights with The Monkees, nor opening for, and regularly hanging out, with such luminaries as the Doors or Jefferson Airplane, did much to help them secure a status more significant than the likes of "pop opera originators", "outrageous band, playing outrageous music" or the most predictable and worn-out one, "long lost classic".
Just as worn-out, must sound that the content of the (now) pocket opera itself, should've been a reason good enough to make them stars that they never were. With The Beatles' influence being the most obvious common denominator throughout the album, of the other ones popin' up, Roy Wood's orchestral and other kinds of MOVE-ments seem pretty frequent as well.
Starting from the opening Birthday Tragedy, or Sideshow, which also throws in a touch of what Bowie was yet about to become, and continuing in Mrs. McPheeny (Has Flu In Her Chest And Has Needed A Rest For So Long), which after a kind of a vaudeville-ian Sopwith Camel-like piano intro, turns into an omnibus of Beatlisms, with the band trying to "fix a hole with a little help from her leaving home".
Another reference fitting the concept quite easily, is Emitt Rhodes (with or without the Merry-Go-Round), by way of his moodier moments, as heard in Simple Life and Lesson Book Life, or more cheerfully in Butters Lament, complete with a trumpet solo comin down the 'Lane.
Nickelodeon Music is a sunshiny piece of good time music by way of the 'Spoonful, which is actually a re-named, new version of a pre-album single, then called Do You Have The Time, now taken farther-out with an additional fuzz guitar and a ragtime-ish piano.
Of other non-LP single sides, there's Keepin' A Secret, an upbeat Turtles(like) hit that never was, She Had To Fly, which is a pretty funky little popsike, and He Spins Around, which falls into the 'Springfield-like, brainy kind of harmony laden Americana.
Re-issued in it's gloriously monoaural mix, as requested by Bob Segarini himself, Miss Butters is presented in it's CD form for the first time ever, accompanied by Rev-Ola's usually informative booklet, featuring the band's detailed "family tree", and every single one of it's accompanying branches, in it's written form.
[Released by Rev-Ola 2007]