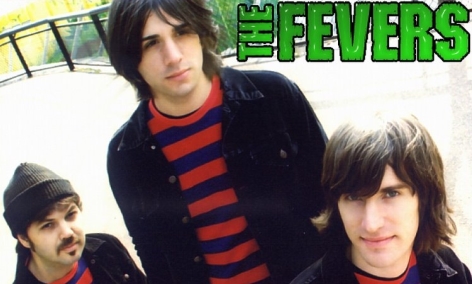 During the ten years or so that I was the editor of THE BOB I'd get semi-regular phone calls from various publicity people asking if we were going to do something on some new House record, or Grunge band or Jam band or whatever.
And once more I'd try to explain what THE BOB was about: "scruffy, energetic bands with guitars, melodies and harmonies!" Now these two records aren't the most brilliant ones, even in this issue, but they epitomize that definition. They're both American, and have other platters, but I'm sad to say they were only just brought to my attention by our new German friends Alien Snatch.
The Fevers are a three-piece, putatively from Minneapolis. Lead singer Gavin May has a gruff, wavering, twangy voice while the instrumentation is basic garagey Pop-Rock so the whole thing comes off like a cross between early Jason & the Scorchers and some of the Dunwich stable of Mid-West '60s bands (Warner Brothers, Knaves, Sounds Unlimited, Del-Vetts, et al.).
The harmonies are sparse, to say the least, but bonus points for bringing all eleven numbers in at under twenty-seven minutes. There are no songwriting credits and I've spotted a cover of the Small Faces' fourth single, All Or Nothing, so your guess is as good as mine as how many other tunes are also borrowed.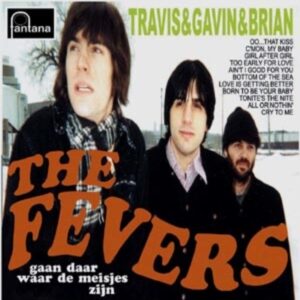 When I was in high school every neighbourhood bar/club had a band doing a British Blues thing — your Zeppelin, Cream, Stones, etc. Back then the legal drinking age in New Jersey was eighteen which meant it was easy to get in to most of them when your were sixteen and you rarely needed fake Ids, which were a dime a dozen anyway.
Down the shore it was a little more R&B oriented, bands like Southside Johnny & the Asbury Jukes. They each had their own regular night of the week. When you're that age and drinking, all that stuff is fun, but if I had my druthers my local tavern would have had a band like this: fun, energetic and semi-tuneful.
C'mon On My Baby is an up 'n down Pop-Rock number of simple pleasures and a few judicious overdubs (second guitar and tambourine). Love's Gettin' Better is a yearning, galloping dash of coolness. Bottom Of The Sea is a dusky, mid-tempo rocker touched by a tint of the Blues.
Born To Be Your Baby is what the album title supposedly translates as, and has one of the more prominent harmony parts. Ooo That Kiss has a bit of a shit-kicking swagger, a kind of Meet The Beatles intro, and more harmonies in it's metronomic chorus.
Probably my fave number is Girl After Girl a rocker with crosscut guitars, including one of those big solos, delectable roughhewn vocal and stompin' rhythm, all for barely two minutes. Or is it the closing, peppering howl of a rocker with just the right amount of melodic bounce, Tonight's The Night?
The Demonics are also a three-piece, hailing from the little town of Pacifica out in California. And they've got that whole California myth thing going, with songs about cars and girls and surfin', but with a black magic veneer ("…you're blood tastes just like beer").
Supposedly their first two albums leaned more towards the car thing — I've always said "we can never have enough car songs" — but this one, as the title implies is more into the beach. It's not far from the space the Queers have made for themselves of late, though not quite as smooth.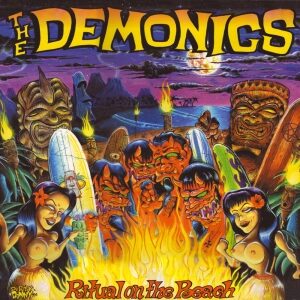 The title track is a prime example, as well as a gem of a tune — rockin' rhythm, tubular lead guitar, perfect backing "oohhh"s under the nasally, slightly Rokyish lead vocal (songwriter Russ Wright), handclaps and a familiar but catchy as hell melody.
Mavericks is a taut, swelling instrumental full of vibrato guitar, co-written by guest guitarist Mike Fox. They offer up some straight ahead, motorin' Rock on Sector 9. Mother Superior has these grungy, Rawk verses but the choruses roll over into hooky, late-period Redd Kross.
Bikini Bitch is another stuffed Pop-Rock nugget. They've reconfigured Nikki & the Corvettes' Girls Like Me into a duet featuring Nikki herself as Russ's partner, here titled Boys Like Me. What Happened To The Sun? is a pretty ballad featuring a chiming, ringing guitar that seems to snap out quotes of Sleepwalk, Heart And Soul and others as the mood strikes.
Evil Angel is another catchy as hell rocker: four-on-the-floor, highly revved guitar and angelic backing harmonies — I'm ready to trade in my soul, if only I still had one. Finally they come to the perfect closer, a rippin' Punkish cover, complete with a classic ride cymbal, of the soundtrack of hula girls everywhere, Aloha OE.
[Released by Alien Snatch 2002]