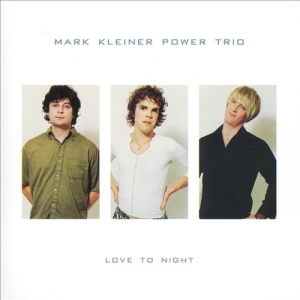 Irony lives in the "great white north" — Mountain they're not. But a damn fine Pop-Rock combo they are. In real life I'd expect there'd be a fourth on stage since Kleiner's piano/keyboards have almost as prominent a part as his guitar.
Their sound is a bit scruffier, but these Canadians try to give the previous bunch a run for the money. Mr. Kleiner has a fine warble, while Messrs. Mills' and Dahle's [Limblifter] backing harmonies fit snug as the proverbial "bug in a rug." And the tunes? They're catchy, moist and sweet.
A perfect example is the opening So Good To See You: a peppy mixture of the thick & ringing, and as infectious as a February flu. Fell In Love With The Girl, which opens with a succulent bit of acappella harmony, channels early Paddy McAloon's [Prefab Sprout] phrasing and songwriting wrapped up in a harder outer coating and non-relational playfulness.
The one actual cover here is a bright, shining reading of the late, great (and one-time Dwight Twilley main lieutenant) Phil Seymour's Baby It's You. And if you need some actual power chords mixed in with your early '70s Top 40 confections, Arrows To Flowers is just the thing.
Can one ever have enough heapings of great tunes?
[Released by Mint Records 2002]