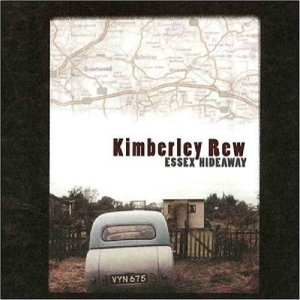 In my review of the Great Central Revisited album from 2002, I was hoping that it won't take him THAT long to complete it's follow up, and luckily enough, here he is, right on time, with the perfect "hideaway" from everything you might not like in the new year.
Another thing from the previous review, was the disagreement with the "quintessential-Britishness" label, stuck on the front cover. Well, it might be that they had already known about Essex Hideaway and had the stickers made in advance, but somebody put them on the wrong cover.
Now, THIS is quintessential-Britishness, and they have a brand new sticker for you to make things right, and one of the lines on it goes:"…a love letter to life and wonder & all things British and beautiful …".
I'm not sure if it really is the idea, but there seems to be some conceptual thing going on here, about the life and times of a player in a band, with maybe an autobiographical reference or two.
According to that, in the good ol' conceptual fashion, the album opens and closes with the church-like prayer (Bless This Album / Epilogue), and continues with the cockeny-ish "lazy Sunday" feel of Phoenixstowe and the Kinky vaudevillian jug band sound of Short Smart Haircut, with the similar formula heard in That's Soft Boy too.
Jerome K Jerome is a beat number with great Beatles-'65 guitar licks, followed by the kinda self-explanatory Lennonism called Tourists Of insanity and an almost-acapella wyrd folk of Arterial Road, recalling the mood of Purple And Orange Stripes from the previous album.
The folky way continues with the countrified Neil Young-like title tune, while Ballad Of The Lone Guitarist explores a slightly darker, Barrett-ized psych feel of Lucifer Sam.
The fact is, that the "soft boy" still makes "waves" !!!
[Released by Bongo Beat 2005]