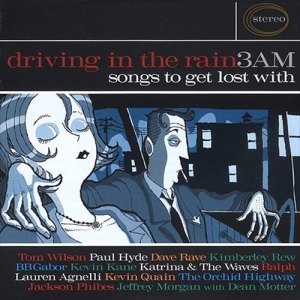 Another one of some vintage. The title captures the overall tone of this collection: moody, languid with a touch of regret. The contributors are primarily from the Great White North (Canada to those of you from out of the States), with a bit more than a handful (considering multiple contributions there's 12 or 14 of them) previously known quantities (by me) though none look to be in the first blush of their youth.
So there is a smoothness and Cocktail Jazz inflection that would more typically place this material on a late night show on your local AAA radio station than in this rag. But considering my recent miseries, it fits the approaching midnight hours (being of advanced years now, I rarely make it past midnight) in which I've been spending squeezing out more of these paragraphs.
Label honcho Ralph Alfonso contributes three of his quasi-spoken word, music backed, coffeehouse pieces; Early Morning Cold Taxi, Last Year's Valentine and Goodbye Jack, Kerouac. His cohort on this endeavor, Dave Rave [Teenage Head], has his hands in four cuts including two with imported (from NYC) Agnelli & Rave partner Lauren Agnelli [Nervus Rex, though in this context the Washington Squares should be noted]: the mostly Rave, regretful, yet uplifting Pop-Rock of Every Dog Has Its Day In The Rain, the mostly Agnelli, spare, acoustic Crying Lullabye.
The other two are the Early Morning Rain-like [Gordon Lightfoot] Technicolor Shadows and the bit too long, slightly more slick All Over The World. Sprinkled about, heightening that late night feel are a few instrumentals: BB Gabor's extended, delicate, haunting Celtic Cross, Jeffrey Morgan w/ Dean Motter's (the latter is the once enfant terrible of the Ground Level comics world) percolating, electronic soundscape A Darkened Stretch and Jackson Phibes' [Forbidden Dimension] beat box and Morricone influenced reverbed guitar tale A Dead One Hangs In the Web.
Many tracks are from other sources, but Kimberley Rew's Restless Ocean is uniquely found here. It's a mid-tempo rocker cut through by jetties of Blues-tinged lead guitar. At over five minutes though, it does stretch out a bit much for me. From limited release purgatory comes Kevin Kane's [Grapes of Wrath] re-imagining of the Modernettes' rootsy, mid-tempo, Pop-Rock number Confidential as a lonesome, guitar and voice ballad. Lastly I'd like to mention Kevin Quain's Devil Song, a succulent, late night cocktail of a tune topped by a Waitsian growl and marked by a patient, knowing, vibrato guitar and the subtlest percussion and organ.
[Released by Bongo Beat 2002]