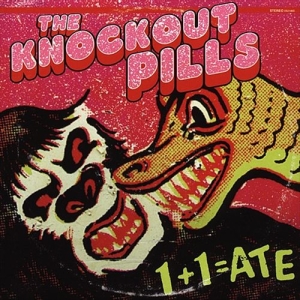 I think these guys might have taken my steamroller comment in reference to their first album to heart. This, their second heaping, seems even more flat out, with barely a breath taken or room given to show their facility. And you know they have it in 'em with everything played so tight that a quarter could probably bounce a foot high.
Look no farther than the bridge of Summertown Rundown: they come out of their rampaging chug (à la the Saints' No Time) with a seamless transition to eight repeating bars of ringing chords and then a section of their guest cheerleader backing vocalists doing a fair munchkin imitation, and then a 20-second Surf-touched, nimble, silvery, Rock guitar solo and all the while the rhythm section is just powering along.
Oh and you can't get away with playing this on your little computer speakers. Go borrow you're big brother's old fashion stereo setup with the big 10" woofers. The vocals will still come across as diffuse, but not quite as shrill and decidedly under mixed.
Choice cuts: Do The Skin Crawl intros with a sequence of scalar peals as the rhythmic tires spin in prep of the slingshot effect, where the high reedy vocals come in. Keeping pace and spitting a bit of fire they ride the chug. In the chorus the band's pop smarts come to the fore with a bit of movement and a harmony vocal. On the second go round the chorus is extended by adding a little call-and-response with the "response" being an echoey and distant voice.
Then it's into the bridge with a taut, low end chug, and a flattened, Brit-inflected, '78 throwback vocal added in a handful of seconds on. Then with no letup it's into a scissoring, rolling, pealing guitar solo. And finally they bring it on home as they run a reprise of the instrumental beginning section into a group-chanted coda.
Immediately following is Not For Nothing which includes an uncredited pounding piano in the pumping rhythm. Of which it could be mistaken for the base of a slab of Heavy Metal. But the vocals twist the number into a Möbius band alloying a Freakbeat patina in the verses and sinking to their chins in '60s British Pop-Rock for the choruses including a tailing Hollies(?), syllable-extending harmony.
[Released by Estrus 2004]