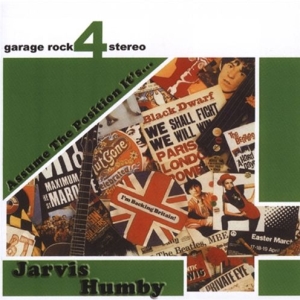 The fact that they're being hailed as the only moderndaze band from Britain to play Little Steven's Underground Garage Festival, actually speaks more about Little Steven not being informed very well about the British scene, than Jarvis Humby's music itself.
However, their vintage Hammond organ-isation IS good enough to secure them a place at any event of such. Those in the now, won't be mistaken if a band name like this one points them towards the freakbeat-ish sounds provided by bands such as Winston's Fumbs, or genre defining tunes like Bernie Gripplestone, while the Union Jack and Who/Small Faces/Beatles/Stones memorabilia gracing the album cover might be just as suggestive.
With the mentioned Hammond being the "key" ingredient, they kick it off with the (maybe even too?) hard hitting We Say Yeah!, "locking" it in not unlike the Medway forefathers The Prisoners. Another close reference might be a bunch of British big-beatsters, calling themselves The Clique, with Jarvis' Andy Smith, sharing some of Trevor French's soulful white-boy growl.
While remaining heavy on the Hammond groove Vampyros Hetros comes out as a kind of a blue-eyed freakbeat, if there is one, Oh Baby (I Believe I'm Losing You) is what they call a typical dance floor filler killer, while Formaldehyde and Man With The X-Ray Eyes (Silver Surfer) add a bit of an Americanized Kinky artillery.
Some of the occasional detours from the usual hi-octane punch, are the moody Zombie heaven of 99 Steps To The Sun, with an additional horny soul in the vein of BS&T, the garage-band-gone-mellow feel (by way of the 'Watchband, 'Prunes or Seeds) of Majestic 12, or the Byrdsy 12-string jangle of These Eyes, combining equal parts of So You Want To Be A R'n'R Star and Eight Miles High.
To give you an even closer idea of their influences are, there's a Spencer Davis-through-Brian Auger cover of Black Cat, as well as The Sparkles' garage punk classic No Friend Of Mine.
[Released by Hard Soul 2004]