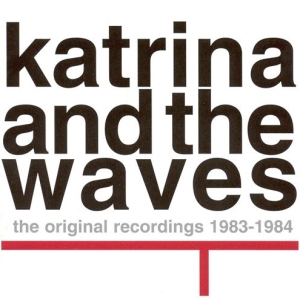 I've never imagined that among the whole bunch of '60s reissues that appear every year, there could be a time when I'll rate an '80s re-release among my favourites ones.
Well, this is where it becomes a reality, with the first ever re-release of Katrina & The Waves' first two Canadian albums on Attic, part of which was later re-recorded for their debut Capitol album the following year.
After being responsible for the making of the Paisley Underground scene (along his Soft Boys' bandmates), as well as a good part of the '80s "indie" guitar-pop scene, guitarist Kimberley Rew moved on to a bit more commercial side, while recreating a wide scope of '60s influences and adding some skinny-tied power and "feelgood" pub-ish vibe to it.
The line from the booklet describing them as "sweatfest of dancing excitement" is best represented by the funky grooves of tunes like the Joe Jackson-like Dancing Street, the nervous floor-shaker I Really Taught Me To Watusi, the blue-eyed soul of Ain't No Money (Buy You Love), the tribal rhythm of Going Down To Liverpool or even the boogie-infused melody of The Game Of Love.
Spiderman and Brown Eyed Son are a pair of jangly, psych-flavoured folk rock, Maniac House covers the freakbeat-ish garage punk area and He's A Charmer is like a long lost (female) Temptation track.
The mid-'60s r'n'beat sound of the Kimberley-sung Don't Take Her Out Of My World suggests that an occasional change of the singer role could do no harm at all and the same goes for the author-role, as proven by a coupla Vince de la Cruz songs like the essential power-pop of Do You Want Crying or Mexico, which brings to mind an imaginary new wave Ritchie Valens-incarnation.
Ms. Leskanich's soulful vocal delivery is especially brought to the fore in the pair of ballads Cry For Me (complete with Stax-astic horn section) and (the previously unreleased) That's Just A Woman In Me, both worthy of Aretha's late '60s legacy.
Besides all this, there was also some serious million-selling hit-single potential in songs like the well known, ultimate soundtrack to the summerdaze Walking On Sunshine with it's hyperactive Motown rhythm, or Que Te Quiero and Red Wine And Whiskey, both sounding almost like power-pop Abba mutants.
I must admit that before this, the only album I've heard by Katrina & The Waves was the Capitol debut, which I loved, but thanks to the efforts of Bongo Beat's Ralph Alfonso (formerly also of Attic Records, also responsible for the Canadian release of The Soft Boys' Underwater Moonlight) it's only now that I've realised how great they really were!
[Released by Bongo Beat 2003]