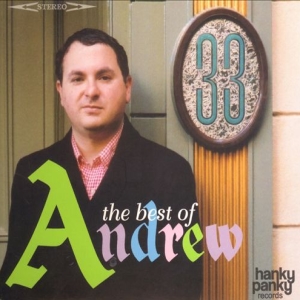 Having been doing so much research about some of the coolest bands/artists gracing the pop universe, it's no wonder that scanning the back of Andrew Sandoval's mind might've shown an archive of songs never written by the likes of Michael Brown, Boyce & Hart, Chris White, Gene Clark or Hollie Ransford.
In order to make some more space for the upcoming ones as well, he continually tends to throw the best of them out of his head and onto the tape, and before you know it, there's already more than enough material for a 10-year Andrewversary, as put by the man himself.
What seems to be popin' up in the pop of Andrew quite often, are the orchestrated baroque styling, worthy of the legacy of The Left Banke, The Zombies, The Merry-Go-Round or The Cyrkle, best heard in Dream About You, High Tower, Magic Harpsichord or He Can Fly, featuring the "cyrkling" backgrounds and guitars of Tom Dawes himself, and the more upbeat, but just as baroquin', Where I Want To Be and Unrequited Life, while it all remains sophisticated enough even when he gets a bit rawkier as well, taking things all the way up to the "big stars" with What Do You See In Me?, I Wish You Would or Friend Of Mine.
For The Man Who Would Be King it is said that it was inspired by The Kinks, not The Byrds, in spite of the suggestive 12-string jangle, and the melody that does occasionally recall The Byrds' version of All I Really Want To Do, We'll Dream sounds like an imaginary mid'60s Buddy Holly tune, putting it close enough to Bobby Fuller (I wonder if it's me that Andrew is referring to in the liners, since I've already said this, while reviewing What's It All About?, also somewhere around these pages).
Then the unreleased I Don't Need It Anymore "reflects Andrew's love of the album A Hard Day's Night, while Till I Met You doesn't fall much farther neither, being the same kind of a mid'60s Beatlism, and on a more traditional side of things, orchestrated co"untry doesn't really get much better than Sad And Lonely Life.
Released on the Spanish Hanky Panky label, this also makes Andrew a label mate of former Honeybus riders, Pete Dello and Colin Hare, putting him into an appropriate company. For those of you not aware of "what it's all about", I'm pretty sure that you'll be more than "happy to be here", and that you'll be enjoying this "beautiful story" "happily ever after".
[Released by Hanky Panky 2006]