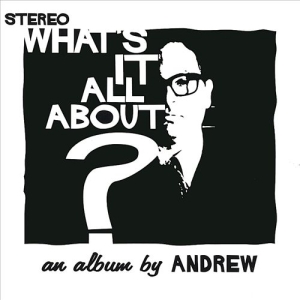 No surprises with Andrew Sandoval anymore …
If you're up for a dose of what someone called "brainy" or "smart" sounding pop, invented a long time ago by the likes of The Zombies, The Left Banke and such, you're sure to get it through any of his three albums.
With the musical support provided as usual by an all-star line up, based around the rhythm section of Ric Menck and David Nolte, and orchestral arrangements by none other than Roger Neill, Andrew runs through the baroque pop stylings of the folky Or, Maybe Not and Another Way Of Life, the upbeat Where I Want To Be and the slightlydelic How Do You Go On, which kinda flows into the blueeyed soul of Never More.
Even when they turn to the more power-popin' sound, they're still sticking to the super-sophisticated arrangements, as heard in I Can't Be Lonely or in the opening We'll Dream, which is like Buddy Holly had he still been around in the mid-'60s (making it more of a Bobby Fuller effort then), as well as the folk rocking jangle of How It Goes and How Come It Takes So Long.
As usual, there's an eclectic choice of a cover, which Andrew makes sound completely of his own, and this time around it's the late '60s Britpop of Grapefruit's Round Going Round.
[Released by Avebury 2004]