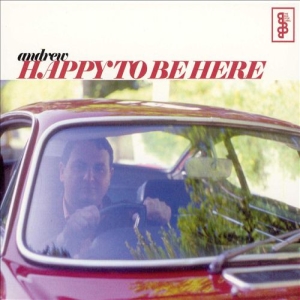 If you're a sixties music fan, it's likely that you're already familiar with the name of Andrew Sandoval, one of THE archivists, whose liner notes can be found in the booklets of many essential re-issues.
Now that he's mastered the craft himself (actually, we've had the proof of that since his debut three years ago) you can place his own albums alongside the ones he's been writing about. Andrew continues his "beautiful story" with the orchestral sounds or Roger Neill, creating another lovely piece of baroque-pop … plus, whatever that means.
Since Ric Menck is behind the drum-stool, it seems that he's contributing some of his own band's feel too, namely in the opening I Wish You Would and Friend Of Mine, also adding a bit of fellow L.A. popster, Brian Kassan's "chewy" sophistication.
Andrew says that he can't remember where the inspiration for Allyn White comes from, but to me, it kinda rings the "bells of chil-tones", and I'm almost sure that the same "tones" made him dream the Strange Dreams, an imaginary orchestrated Big Star outtake.
I'm sure most of you will take special notice of the appearance of The Cyrkle's Tom Dawes on He Can Fly, a possible album highlight, being a song that Paul Bevoir had always dreamed of making, and there's also another tiny little Cyrkle tribute in High Tower, which contains a line "… sing-a-long with Tom and Don …".
Other "baroque" delights include If I Can See You Smile and Tears Anyway, harmonium/trombone/French horn leaden popsike numbers, the closing late'60s/early'70s Wilsonian title tune, and there's also It May Never Happen, recalling so many great things at once, from the Byrds/Fanclub folk-rocking jangle, to the somewhat distant vibe of The Eyes' version of As Tears Go By.
Another highlight must be the perfectly chosen cover of Dion & The Wonderers' tune Now, here sounding like the most magical of "flights", with Gene Clark as a captain of the "trip", with or without the Byrds.
I don't know about Andrew's reasons for coming up with the album/song title, but I know I sure am "happy for him to be here" ….. and I know that you'll be too, after listening to this album.
[Released by Bus Stop 2003]