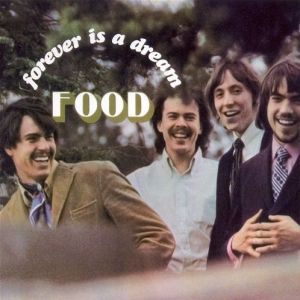 In spite of it being considered for one quarter of "Capitol's most-collectable psych LPs (along with Gandalf, The Common People and Euphoria)", I wouldn't call Food's only album, released in 1969, an underrated classic of the genre, nor a lost masterpiece, or something similarly pompous, but it does fit under a decent-psychedelic-artifact-of-it's-time tag pretty well.
A kind of a lack of consistency is made up by all different kinds of ingredients making this "food" still tasteful enough, for every late'60s fan not regretting for having at least a taste of it.
The title cut opens the album with a kind of an orchestrated Zombies-like fragility, Pepper-ed with some swinging horn, and mixed up with West Coast-ish vibes as well, which gets almost like interrupted by the surprisingly fuzzed out, "creamy" sounding crunch of Naive Prayers.
With a similar formula being explored some more towards the end of the record for the bluesy, though still psychedelic enough, triple of Marbled Wings, Here We Go Again and Travelling Light, with the latter also throwing in some Love-ly eclecticism.
The pair of No and Coming Back provides us with the horn-laden, jazzy groove by way of Blood, Sweat & Tears, followed by an equally jazzy, though a bit more good time-ish Spoonful of sound in Lady Miss Ann, while there's even some medieval, folky popsike to be heard in Inside The Mirror.
No matter what kind of a late'60s taste you're preferring, feel free to take a bite and I'm sure that this kind of a "food" shouldn't be too hard to swallow.
[Released by Fall Out 2006]