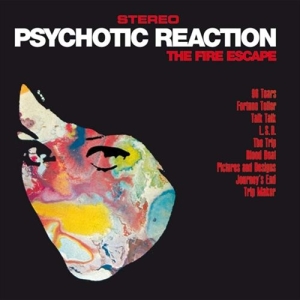 Not so much because of the songs themselves (8 out of 10 being covers), nor an originality of the sound neither, but The Fire Escape's only release on GNP-Crescendo (1967) is still being regarded as a pretty collectable item, being a kind of a precursor to the Nuggets-and-related concepts, no less than five years before Lenny Kaye's own "comprehension" of the whole thing.
Put together by the ultimate freaky scenester, Kim Fowley, along with the "Smoking" West Coast Pop Art Experimentator extraordinaire, Michael Lloyd, and the production team of Larry Goldberg and Hank Levine, the album is a kind of a "psychotic reaction" to the pioneering garage-punk sounds of the day, while they were still being called just (not exactly) plain pop, or at it's most outrageous, r'n'b, with the identity of the actual (studio) band being mysteriously hidden from the public eye.
Among such future genre-defining classics as Talk Talk (The Music Machine), 96 Tears (? Mark & The Mysterians), Trip Maker, Pictures And Designs (The Seeds), Fortune Teller (take your own pick) or the title song (The Count V) itself.
As well as the not so classic but just as representative pair of Love Special Delivery (Thee Midniters) and a re-recording of Kim Fowley's own The Trip, there are two band "originals", both sharing the songwriting credits of Goldberg/Levine, with Blood Beat being a spooky psychedelicate instrumental, while Journey's End actually happens to be the most conventionally sounding piece of a folk rocking jangler at it's best.
With most of the mystery surrounding the album being revealed quite a while ago, the supposed involvement of Sky Saxon and Mars Bonfire is what still remains a rumour.
[Released by Fall Out 2006]