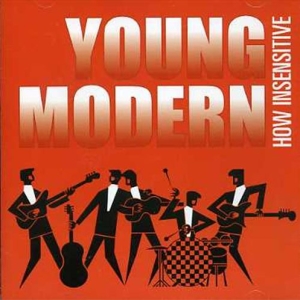 After last year's expanded re-release of their 1979 Play Faster album on Aztec Music (reviewed elsewhere on these pages), and after being considered to be too-hip-to-be-hip for too long of a time, the self proclaimed "ultimate suburban band" has finally grown to become not really "young", but definitely "modern" enough, and "recognized as one of true greats of Australian rock'n'roll".
The not-really-punk-but-still-genuine-mid'60s-r'n'beat-inspired-nuggets are still what makes the bulk of their output on this long-awaited sophomore long-playing release, with some of them actually being first ever studio recordings of songs featured way back in their 1978/79 live sets (as heard among the bonuses on the Play Faster re-release), such as Do You Care, Girl Of Mine or It's Her Way, all being reminiscent of "them" mid'60s British r'n'b tracks that inspired what's now being considered for sixteez garage-punk in the first place.
Not getting much farther away from the concept, after an opening recalling The Knickerbockers' Lies, supposedly not by an accident, Young Modern tell their own "Lies" by way of classic Merseybeat, the jangly pair of Bracelets and Catholic Girls, both being quite Kinky sounding, is delivered in a kind of a folk-rocking way.
And on a more traditional side of things, they also provides us with some real reelin' and rockin' Chuck-le, as heard in It Happened Today, Pensacola Blues and Yeah Yeah Yeah, sometimes sounding kinda like Lou Reed covering Chuck Berry, and it's the late'60s Stones that he seems to be backed by in "The ravers hit town" … sort of.
All considered, this is quite a competent, and not insensitive at all, come-back for a bunch of not-so-Young MODerns, with just as competent MODernistic outfit, making them look cool enough to avoid the mediocre front cover art, which the booklet designer unfortunately didn't seem to realise.
[Released by Croxton 2006]