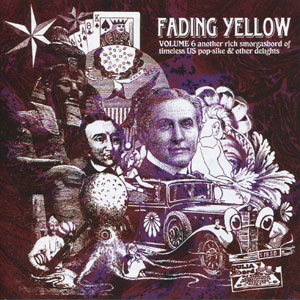 Whenever I'm about to start writing about "various artists" compilations, in order not to end up being too detailed, I tend to pick out its defining moments (IMHO), without which it wouldn't be the same.
Sometimes, which in case of the Fading Yellow series becomes always, I'm struggling to choose the ones that I won't mention so what the…, those of you who prefer it short'n'clear, just go out and buy these and those of you who need persuasion, here's why you should follow the inpatient ones.
If the "turtle-necked" sunshine-pop is what it's about for you, you'll get your dose right from the start of Volume 6 with The Five Shy and later with Sunshine Trolley's Cover Me Baby film soundtrack and The Don Meehan Project, sounding like a fully orchestrated cover of an imaginary Gene Clark tune, justifying it's title My Little Symphony (all Vol.6) .
If you're more of a folk-rocking type, there's more than plenty for ya around here, from the Brummel-ish vibe of The Unforscene (Vol.6) and the "gentle wondering ways" of The Eighth Day's Building With A Steeple (Vol.7), through Fargo's harmony drenched Hollie-Byrd-flights (on both volumes) to the Mama Cass/Steve Barri produced 3's A Crowd (Vol.7).
Mixing the folk and psych elements, The Smoke Ring (Vol.6) comes up with a spooky love song, Bob Ray (Vol.6), Bill Soden (Vol.7) and Hank Shifter (Vol.6) all take Donovan's more eclectic moments as a starting point, with the second also adding some eastern feel, making it sound like a Donovan-Harrison '67 collaboration, while the third one makes it kinda funky.
The New Yorkers (Vol.6) and Ellie Pop (Vol.7) are obvious Beatles worshippers (I mean this as a GOOD thing) and on the more progressive side of things, The Scene (Vol.6) offers a piece of SF-popsike, Gary Paxton-produced Chocolate Tunnel do the pre-Eternity Children version of the Britsike flavoured The Highly Successful Young Rupert White (Vol.6), Federal Duck's Peace In My Mind (Vol.7) sounds as if picked up from David Crosby's "mind garden".
Bob Crewe-produced Glitterhouse (Vol.7) and Lee Michaels (Vol.7), both deliver genre defining popsike numbers and Summerhill (Vol.7), even though the booklet photo shows them in the kind of a Monkee-pose, their quirky track could easily be the most ambitious recording here.
Michael Lloyd's Smoke (Vol.7), The Rainy Daze (Vol.6) and John Randolph (Vol.7) all make it clear why the terms "chamber pop" or "baroque pop" had to be coined, with the latter owing an idea or two to Nick Drake, Ron Dante's later bubblegum-stickiness can almost be felt in his Bob Dileo-sung tune (Vol.6), sometime Left Banke vocalist, Bert Sommer is featured with the great HIT that never was, And When It's Over (Vol.7) and the classic-that-never-was title must go to Can't Go Home by Ted Munda's post-Enfields group, Friends Of The Family (Vol.6) (not included on the Distortions/Get Hip comp).
Of course, I'm sure that after the next listen I'll be asking myself how could I not have mentioned some of the tracks, but as I said, this is the kind of a problem that you can only wish to have with a V.A.compilation.
[Released by Flower Machine 2003]