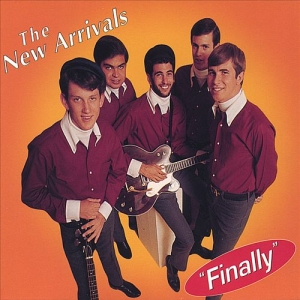 The New Arrivals WERE what their name says, way back in 1966, and it still took more than 35 years for the world to take notice.
An article (found on the back cover of the CD) called them "good looking, clean-cut, sharp dressers, collegiate, talented …" wondering "how they've ever made it, with all that going for them"… if the writer only knew how wrong he was, because they had never actually made it … until now … kind of.
Thanks to band member Tom Muller getting hold of the original tapes, San Jose's New Arrivals recorded legacy has finally been compiled onto one album, showing that they SHOULD have made it, even though their looks wasn't suggesting so (?!?!).
To hear both sides of their second South Bay single (Scratch Your Name / Just Outside My Window) is enough a reason for this and there's also enough unreleased material for a chart-topping album.
The sunny side of the mentioned single is a Tom Talton (of We the People) written combination of fuzzy garage riff and an authentic west-coast harmony pop, complete with the psyched-out rave up finale, while the b-side finds them "searching" for the perfect 12-string jangle in a Brummel-ish way.
God Help The Teenager continues the "search" in the similar folk-rocking vein, Wrong Slant Of Life takes it back to the garagey r'n'beat, Funny Feeling is another piece of sunshiny harmony pop of the highest order, the way it was done by The Cryan' Shames or The Buckinghams, trying to warm up the "windy-city".
Hey Little Girl is a surfy little love song, shooting the same curves as Jan & Dean and the heartbreaking beat-ballad When I Needed You is another Tom Talton "gift".
The New Arrivals have "finally" arrived … again. Make them feel more welcome than the first time!
[Released by Taj Pro Audio Prod. 2002]