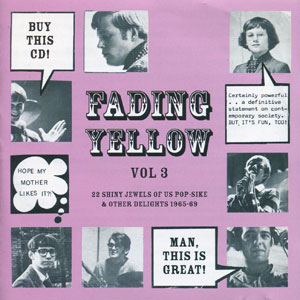 – 22 Shiny Jewels Of U.S. Pop-sike & other delights 1965-1969 –
Compiling rare sixties stuff is becoming more and more challenging these days. Every new release makes you thing that the bottom of the spring is getting real close, but thankfully, there are "machines", like this flowery one, that tend to "pull" that bottom from the other side, making it deeper every day.
On the other hand, it seems that back then it was pretty hard to find a house without at least one band member, and for us sixteez junkies, everything sounds interesting enough as long as it wears some of the beat/psych/mod/wyrd … labels.
We're all guilty, but we just can't do without the "syn". Here's the content of the latest dose that will keep runnin' through our veins. Of course, as usual, there are a coupla tracks with some well-known faces involved, one way or another.
You'll find the "critter" Jim Ryan's name along the composing/ producing credits of The Giant Jellybean Copout's jazzy-popsike Look At The Girls, which actually makes you wonder if there are some more "critters" involved, since the song's a-side was their own song, also written by Jim.
One of the album's surprises comes in the shape of The Chicago Loop, produced by Bob Crewe and including Barry Goldberg and Mike Bloomfield. As this b-side of their '66 debut single shows, they were a bit more "international" sounding before they formed their "American music band" a year later.
The opening track is Eddie Hodges' version of Shadows And Reflections, maybe lacking Reg King's soulful vocal delivery, which is probably because most of us are used to The Action's take, but then again, it's good to hear how it was intended to be.
If you're up for some Zombie-heaven, try Michael & The Trees' Show You Love Me which is sure to "make you feel good", or River Deep's Shelley Tell Me Why, which sounds like a bit darker version of Time Of The Season, though being a great tune of it's own, with Ray Manzarek steppin' in for a solo (hypotetically of course).
Also in the "intelligent pop" vein, come the Left Banke-ish sophistication of The Scandal's Girl You're Goin' Out'a My Mind, starting with the dramatic "too much to dream"-intro, and there's also one of the CD's highlights, The Cadaver's Haven't Got The Time, making an ideal, conceptual ending with it's "deligthful shiny jewel pop-sike" sound.
The variety continues with the jangly folk-rocking tones of The Wiggs of 1666's It Will Never Be The Same and The Trolley's Toy Shop, also adding a gentle touch of psych to it, the wyrd baroque arrangement of Gaitley & Fitzgerald's Seance Day and a British geezer called Robbie Curtice reconstructing the Turtles' softest moments with When Diana Paints A Picture, and if you've heard London Phogg's groovy Takin' It Easy on the Misty Lane's Bring Flowers To U.S., your high expectations will be fulfilled with The Times To Come, where they sound like Mamas & Papas harmonizing over the 7 & 7 Is backing track.
After hearing this volume of Fading Yellow, making a compilation like this doesn't seem so hard after all. As some of the participants used to say, "Groovin' is easy" … if you know where it's at, and the Flower Machine seems to know too well.
[Released by Flower Machine]