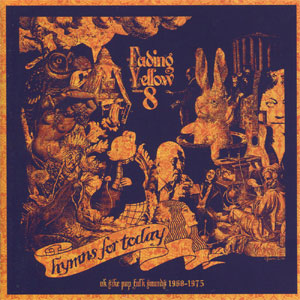 Volume 8: Hymns For Today (UK Sike Pop Folk Sounds 1968-1975)
Volume 9: The Other Side Of Life (Timeless UK Pop-sike & Other Delights 1966-1972)
After the time has faded enough to become yellow once again, in it's usual, and most appropriate Gaven Dianda-designed artwork, the late '60 / early' 70s slightlydelic pop sounds preservation series continues with a new pair of volumes, with the 8th one digging deeper than usual into the furrows of British folky psych vinyl's, and just as deep into the other decade as well, while the 9th one deals with the obscure delights hidden onto the 7" format.
In order to fit the Fading Yellow standards, folk has to have an additional twist or two, of which there's more than plenty to be heard on Hymns For Today, mostly at least lightly orchestrated and chock-full of exotic instrumentation, with some of the highlights being England My England by the Brum folky HARVEY ANDREWS, Me And My Life by what's considered for a progressive folk group FUCHSIA, I've Seen The Movie by the Scouse guitarist ANDY ROBERTS, or EVENSONG's The Smallest Man In The World.
Some of the tracks such as ex-Fleetwoods' guitarist DANNY KIRWAN's Lovely Days or TREVOR BILLMUSS' Sunday Afternoon In Belgrave Square have a pretty distinct medieval British feel, making them genuine baroque folk items, with the latter also being kind of reminiscent of some of the Love-ly "forever changing" stuff, which is a description as good as any for GOTHIC HORIZON's Thoughts as well.
The most pleasantly surprising pair of entries come from MICHAEL BLUNT, who happen to be "a totally enigmatic UK singer/songwriter about whom no info whatsoever can be found", and on the other hand, the least surprising, and expectedly among the highlights as well, are JOHN PANTRY's orchestrated Kinky pop of Long White Trail and TONY HAZZARD's Loudwater House.
Sharing the subtitle of volumes 4 & 5, it's clear enough that The Other Side Of Life is actually on the series' usual, delightfully slightlydelic side, with the most delightful of the bunch being an anonymous "electronic engineer" BRENDAN PHILLIPS' debut 1966 single's pair of orchestrated baroque pop nuggets.
JUMBO's Badfinger-ish power-pop of Promises, DAVE CHRISTIE's Zombies-likes eclecticism of Penelope Breedlove, MIKE LESLIE's Office Girl, which is a Pete Dello co-written piece of popsike, and I'm sure not one owner of Utopia Daydream, New Rubble series' 4th volume, will mind hearing once again JON's Polly Sunday.
With this new bunch of "hymns for today", coming from way back yesterday, let's hope time won't fade as much as it has since the previous two volumes.
[Released by Flower Machine 2007]