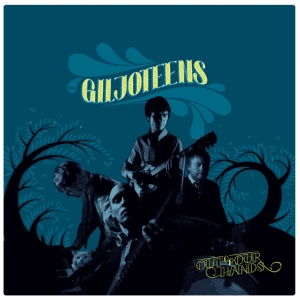 Two years after their long-playing debut on Teen Sound (reviewed elsewhere on these pages), one of the most authentic products of the Swedish moderndaze garage revival, alongside The Maharajas, The Men, Dee Rangers and the like, The Giljoteens are back, and what's almost just as important, they're back on the more suitable 12" vinyl format.
Considering the initial idea to Get A Head, I don't really hear them letting things "out of hands", unless the title is meant to puzzlingly point out that where they mostly seem to be at the moment, is just a "Stone" throw away from the garagey take on all things Stoned, by way of mid-60s.
I suppose you'll agree that the opening pair of I'll Be Good To You and Things I've Done, are obviously "Stoned" punkish pieces of (in case of the former more) frantic freakbeat, with the latter throwing in a cool guitar riff reminiscent of The Birds' How Can It Be, and how about a line saying "Pretty Things keep hypnotize me"?!
I'm Gone, co-written with Jens Lindberg of The Maharajas (and formerly of The Crimson Shadows, The Stomachmouths…), leans onto the more traditional early(est) Stones-like r'n'b, not unlike Fooled with the Diddley-ish beat by way of the Pretties and the 'Sect.
On a more jangly side of things, Before My Eyes opens with a guitar line that makes you "look through any window", before it leads towards another "rolling" beat, and slowing things down a bit, there's a couple of moody Farfi-sized teen punk ballads Far Above and the title tune, as well as what by now might be considered for a genuinely Maharajas sounding There's No Turning Back.
Make sure to get this into your hands, while it's still of theirs!
[Released by Copasedisque 2007]