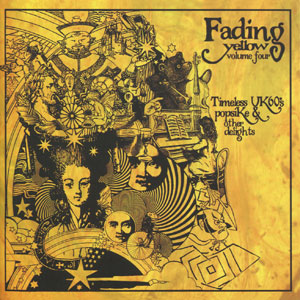 Not that it's precedent or something, but besides the improvement of the actual content with every new volume of the Fading Yellow compilations, it's obvious that the packaging is also taken special care of.
With the, just as pop-sikey, graphic artworks, done by Gaven Dianda of the Canadian power-pop beatsters, The Flashing Lights, these are becoming collector's items on yet another, whole new level. As for the music itself, well, as the title says, it's timeless; all we need is someone to dig it out, which we thankfully have in the Flower Machine.
The '60s volume opens with Bob Ponton and Matin Curtis' post-Pandemonium Thoughts And Words (though there were some songs too, obviously) and the track Morning Sky, in the liners described as being Idle Race-influenced, and I'd just like to add that it could've been among the highlights of ANY Jeff Lynne-involved album.
Another indirect, Move-ing connection comes through the soon-to-become Acid Gallery (of Roy Wood-written Dance Around The Maypole fame) The Epics' classic Britsike quirkiness of Henry Long, written by the Tremeloes Blakely & Hawkes.
The J & B (soon to become State of Mickey & Tommy) provide the moody Zombie-like arrangement of There She Goes, The Majority's Charlotte Rose sounds like The Millennium covering Like A Rolling Stone, Godley and Creme's pre-10CC project Frabjoy & Runcible Spoon do it a bit spooky with the Animal Song and the Finders Keepers, featuring Glen Hughes, give us an orchestrated piece of upbeat, Spectorized pop.
The Californians from Midlands (!?), with their "turtling"-kind of sunshine pop, prove that they really deserve to be called like that, John Bromley's If You Are There For Me is classic baroque-Macca, David McNeil's Linda has a "pretty" kind of a power about it, combining it with a gentle melody and, besides it being an essence of "timeless UK popsike delight", the chorus of The Gibsons' You Know I Need Your Loving shares just a bit more than the similar title with the Four Tops' hit.
There's a coupla more BIG names to be found in the shape of The Alan Bown, featured with their folky Britsike All I Can, Wayne Fontana's Impossible Years is just another example of Gouldman-penned pop jewel, while the Wayne-written In My World is also nothing less than brilliant.
There's even an inadmissibly neglected, late'60s Dave Berry single written by Ian Hunter (!?), and as a special bonus, you get the Robbie Curtice/Tom Payne goofydelic demo, not unlike Syd's solo stuff.
As for the early seventies concept, mostly, there's not much difference between the two volumes. The majority of the tracks here are something like a sixties-sounding-seventies-pop or the other way 'round, which comes pretty close to each other anyway.
The opening belongs to another Aony Hazzard penned classic that never was, with the fuzzy Last Time-y riff, played by the High Society, followed with Garry Benson's Bee Gees-ing Holly and the Left Bankeish, Smoking Geoff Gill-produced '70 single by Angel Pavement. Mike Batt's Wendy is kinda like a Honeybus-demo (in a GOOD way!), Abel Fletcher is featured twice, with an imaginary White Album acoustic outtake by Sir Paul, and Esmeralda, again coming from the "lynne-ar wood", and a moody, orchestrated baroque pop version of Tim Rose's Come Away Melinda is delivered by the appropriately Poets-lookalikes, Cats Eyes.
Sunchariot and Tuesday (as Sweet Floral Albion 'zine puts it, "a wistful psych-tinged pop marvel" … indeed!) are what you'd call obscure, undeservedly neglected, classics, and the "headliners" title goes to Billy Nicholls and his '73 single folky b-side, and a project made of "the shadows" of Hank Marvin and Bruce Welch, teaming up with John Farrar, and coming up with the Mamas & Papas-sounding, gentle-psych flavoured Tiny Robin.
So, it seems like nothing is better than to fade away … if it's in yellow!
[Released by Flower Machine]